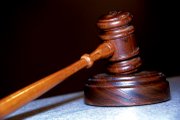 A MAN was sentenced to spend three years in Her Majesty's Prison after being convicted in Magistrate's Court on drug related charges.
Sweyn Campbell, 43, of Golf View Lane, was convicted of conspiracy to possess dangerous drugs and possession of dangerous drugs with intent to supply.
It was alleged that he while in Freeport, Grand Bahama on August 5, 2007, he was in possession of 94 pounds of marijuana with intent to supply.
It was further claimed that he conspired to commit the offence.
He was originally accused along with Miciel Campbell. At their arraignment, both denied the charges and pleaded not guilty.
According to trial evidence, officers received a tip and left the Drug Enforcement Unit armed with a search warrant for a Golf View Lane home.
After making their presence known to the accused man and identifying themselves, they searched the house.
During the search, the man was said to have told police he had marijuana inside his garage.
The officers recovered 13 packages of suspected marijuana inside a dark grey bin and another package in a black garbage bag that was concealed among clothing.
After nearly six years, the case came to an end when Deputy Chief Magistrate Carolita Bethell convicted the 43-year-old of the two charges.
His co-accused was acquitted.