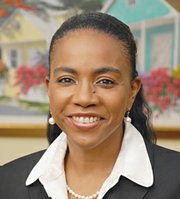 By NEIL HARTNELL
Tribune Business Editor
nhartnell@tribunemedia.net
The Bahamas can become the "21st century International Arbitration seat for the Americas", a leading practitoner said yesterday, adding that it would take a five-year process for it to establish itself as such.
Bertha Cooper-Rousseau, chairperson of the Chartered Institute of Arbitrators' (CIArb) Bahamas branch, told Tribune Business that the organisation was moving rapidly to develop a diverse cadre of local professionals who were fully trained in arbitration, as without them this nation's ambitions would "not be taken as seriously as other centres".
The Bahamas' branch currently has between 30-35 members, with more applications being processed, and Mrs Cooper-Rousseau said it aimed to expand this number six-fold to reach 200 by year-end.
Arguing that the Bahamas could emulate Mauritius, which had established itself as the International Commercial Arbitration "seat for Africa", she said such a goal would be impossible without a labour pool trained in alternative dispute resolution (ADR) and mediation - the very essence of arbitration.
"It's absolutely essential. This cannot be achieved without a national plan and education that falls into line with the policymakers' direction," she told Tribune Business.
"The initial infrastructure, the legislation, is in place, but for international arbitration they look at the professional body and the training those people have had in mediation and arbitration.
"Without a trained pool, we will not be taken as seriously as other centres around the globe."
Successive governments, including the Christie administration, have publicly stated plans to establish the Bahamas as a major international arbitration hub, a facility that will not only complement the legal profession but this nation's financial services and maritime sectors, and its international business centre ambitions.
Mrs Cooper-Rousseau said the Bahamas branch was not just targeting attorneys, but other professionals such as accountants, doctors, engineers and contractors to become internationally-recognised arbitrators. All were sectors where disputes arose, while their expertise would often be called upon in arbitration hearings.
And, just as vital, she added that the Bahamas branch aimed to train the judiciary in arbitration and ADR, via its education initiative which will launch in March.
While the long-touted commercial court required presiding judges to be experienced in such matters, Mrs Cooper-Rousseau explained that the Bahamas would be "put at a disadvantage" if it had no commercial judges who were training in arbitration processes.
"International arbitrators choosing the Bahamas as a seat will not only want to know the judges are trained in commercial law, but are trained in arbitration processes as well," she explained.
"It's important that transactional attorneys around the globe have confidence in the platform here."
An International Arbitration centre would involve panels of arbitrators sitting in the Bahamas to hear disputes, and Mrs Cooper-Rousseau said it was critical that a commercial court have judges trained in arbitration should any of these cases head to it.
"If an arbitration matter is heading to the Supreme Court, they would like it to be heard in a commercial court by sitting judges who are also trained in arbitration," she added.
Thus the development of a Bahamian commercial court and International Arbitration Centre will go hand-in-hand with the training of the judiciary, attorneys and other professionals in the latter's processes. Bahamian professionals will also likely have to sit on some of these arbitration panels.
Mrs Cooper-Rousseau, meanwhile, told Tribune Business that the Bahamas' geographical location and US east coast timezone made it the natural location for the resolution of disputes involving trade between Latin America, and Asia and Africa.
Rather than competing with more established international arbitration centres, such as London, Hong Kong and Singapore, the Bahamas' branch chair said this nation's role would be to serve as a "complement" to them.
"There's no reason why we should not move to assume the position we have now," Mrs Cooper-Rousseau said, warning that other nations were also working towards that goal.
"The training and education is critical for the Bahamas to become a reputable, sophisticated centre. This has been the success behind hubs such as Singapore and Mauritius," she told Tribune Business.
"Mauritius has positioned itself as Africa's seat in the 21st century, and here in the Bahamas we can do likewise in the Americas."
However, Mrs Cooper-Rousseau warned that this would not happen "overnight". She told Tribune Business that, as with Mauritius and Singapore, it would take five years for the Bahamas to truly establish itself as an International Arbitration Centre if it was done correctly.
Pointing out that arbitration business would not just come to the Bahamas automatically, Mrs Cooper-Rousseau said this nation required a well-designed business development plan to build on the legislative and labour platform that was being put in place.
"The fact we have the ships registered here in the Bahamas, the fact we are here in the ideal geographical location, will not suffice. The fact that we constructed the most sophisticated infrastructure will not suffice," Mrs Cooper-Rousseau told Tribune Business.
"Over the next five years we have to go out and hit the pavements, go out on a roadshow after we have done the training and institutional infrastructure. We have to go knock on doors, and convince transactional lawyers and others that the Bahamas is the right place.
"This is not an overnight process. It takes time. It's a process, but a deliberate one; not an ad-hoc manner. We have to demonstrate to the international community we are serious."
Once the Government made a policy decision to establish an International Arbitration centre, Mrs Cooper-Rousseau said it would need to form a 'Task Force' to determine the structure, resources and manpower that would be needed, along with rules to govern its operations.
Its creation, though, would enhance the Bahamas' attractiveness as a destination for foreign direct investment (FDI) and financial services clients, who can take comfort from the fact they could avoid being "tied down" in prolonged, costly litigation in the courts.
Mrs Cooper-Rousseau added that this would enhance efficiency not only in the international sector, but also the domestic side of the Bahamian economy, as local businesses would also have access to ADR.
And she added that an International Arbitration capability would also contemplate the Government's trade agenda.
"It's a part of creating and shifting the Bahamas from having matters resolved as they are presently to using mediation as a means to resolve disputes," Mrs Cooper-Rousseau told Tribune Business.
Arbitration is a mechanism through which a dispute is referred to a neutral third party for a decision. The Arbitration Act 2009 and the Foreign Arbitral Awards Act 2009 provide the legislative platform.
Mrs Cooper-Rousseau said the Bahamas will also need endorsements from international institutions such as the International Chamber of Commerce, the London International Court of Arbitration, and the London Maritime Arbitrators Association.