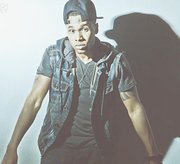 By FARAH
Tribune Features Writer
jgibson@tribunemedia.net
BAHAMIAN artist Chris "Sketch" Carey is out of the blocks early in 2013 with a new release. He teamed up with reggae artist Mdeez to release "Wine For Your Man". The club song is a fusion of reggae, hip-hop and R&B styles.
"Wine For Your Man" is a love song for the club. It is about you going out with that girl that is yours and you wanting to be nowhere else than with her because you are proud she belongs to you," Sketch told In Ya Ear. The song was written by songwriter Anwar McDonald.
Sketch said he wanted to step out of the box and create a memorable track for this song. He sought Mdeez to bring the needed flavour to the track.
"When the production was completed, it felt like something was missing. It needed a feature, a hype man, someone who could bring the record to its full potential. So I called Mdeez and let him hear the record. He was blown away. He wrote and recorded the song in about 15 minutes and it was a wrap. It was natural and sweet to my ears," he said.
A video for the song is also in the works. Sketch has not decided yet on a concept, but did say it will be shot at home.

"It will be done in the Bahamas. The video will be energetic and sexy but I can only say that much. Have to keep it a surprise for the fans."
"I will brand it heavy. I want to get it to everyone and anyone: the blogs, social networks, music publishers and the fans. I will be promoting the song locally and internationally," Sketch said. It is already circulating on several radio stations.
Sketch is also working on an extended play album which will feature Wine For Your Man and four other unreleased singles. Each of the records, he said will display a different side to him.

The Bahamas and New York are home-central for Sketch. In New York he is focused on getting a major record or publishing deal.
"I have worked with people like Jerry Wonda, Keri Hilson, Sean Kingston, The Soundkillers (who have produced records for Beyonce), Bow Wow, Keyshia Cole, Flo Rida and more. I am also focused on finding a home for the right record/publishing deal God's willing," he said.
Sketch is also featured on "Bandz", a single by international artist Boola. He wrote songs for a number of artists including Ne-Yo.
Apart from working with international artists, he is also collaborating with local musicians including his big brother Rik Carey, member of Bahamen.