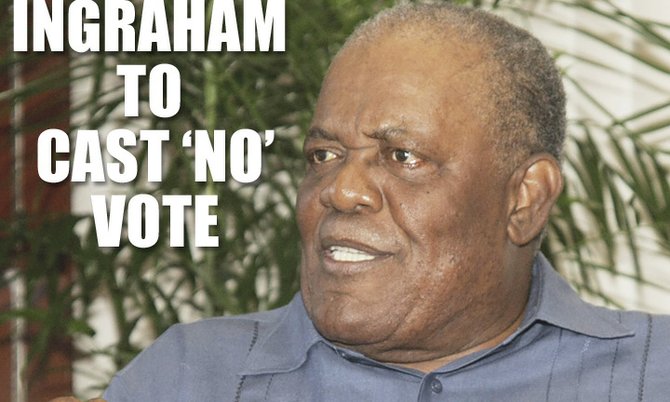 By PAUL G TURNQUEST
Chief Reporter
pturnquest@tribunemedia.net
FORMER Prime Minister Hubert Ingraham urged all Bahamians to vote "No" in Monday's gambling referendum, stating that Wednesday's march to the House of Assembly by the 'Vote Yes' campaign has made his previous position of "non-participation" in the process now "untenable."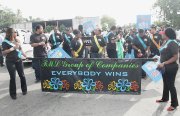 Having publicly stated that he was not prepared to vote in the January 28th referendum, Mr Ingraham told reporters at his law office yesterday that he has now changed his position and will be voting "No" on Monday.
"A number of FNM supporters and others have spoken to me and have
expressed their alarm at my non-participation in the referendum and I was particularly moved at yesterday's demonstration. It is unfathomable to see the operators of numbers businesses, including one of whom was convicted in the courts of the Bahamas and the Magistrate ordered just under $1 million confiscated from him. The order has not been reversed on any appeal as far as I am aware. The police, instead of arresting persons who have admitted publicly operating illegal enterprises, the police are escorting them. Instead of handcuffing, they are escorting," he said.
While not wishing to speak directly to Commissioner of Police Ellison Greenslade's lack of action in the matter, Mr Ingraham noted that former Commissioners of Police Paul Farquharson and Reginald Ferguson had arrested persons involved in the gambling industry in the past. While these arrests may never have gone very far, Mr Ingraham said he still finds it "unbelievable" that Craig Flowers can announce publicly that he operates 12 illegal gaming houses in the Bahamas and employs 400 people and no action is taken in respect to his admissions.
"These are public admissions by him. Not suspicions on anybody's part now. He voluntarily says so and then comes and demonstrates on Bay Street."
When asked about Prime Minister Perry Christie's defence of Mr Flowers and other gambling operators who marched on Bay Street as a great show of "democracy", Mr Ingraham said his only response could be is to "laugh."
As to the January 28th referendum, Mr Ingraham said he had no idea which way the vote could possibly go. However, he said he is doing his part now, hoping that whatever influence he has over anyone in society would encourage them to vote "No" on all questions.
"I am voting no, period. Because the truth of the matter is this government will never put in place a lottery. They never intended to do so. They were pressured and changed their mind. They are indebted to, and committed to, and devoted to the illegal number business people. A lottery is a joke from their point of view.
"If for instance you really wanted revenue, the national lottery would produce far more money than a taxation of the casino fellas. Because what is the difference between 15 or 20 per cent to 100 per cent? A big difference," he said.
Previously, Mr Ingraham's former administration had taken a position that they were going to likewise hold a referendum on the matter, as it appeared that the police were "unable" to enforce the laws of the land with respect to gambling. Mr Ingraham said that the country could not allow such an industry to continue "unregulated" and either the laws were going to be enforced or they would make it legal. In the end, Mr Ingraham said that he was persuaded not to proceed with licensing the industry after speaking with Anglican Archbishop Laish Boyd.
"He was most persuasive. And I changed my mind. I went back to my colleagues and said gentlemen we are not going to proceed. I had a lengthy chat today with the Anglican Bishop and he persuaded me that this is the wrong thing for us to do at this time. We will therefore put it to a vote sometime in the future. And if you would note, the FNM in its Manifesto for the 2012 general election did not say a word about web gambling. It was not a part of our Manifesto. So it was no longer a part of our agenda," he said.
Mr Ingraham added, however, that he has no personal objections to persons engaged in legal games of chance. In fact his previous position of non-participation in Monday's referendum hinged on the fact that the referendum, which was meant to legalize web-shop gambling or "numbers", left in place a prohibition preventing Bahamian citizens, residents and work permit holders from access to legal gaming in casinos licensed and regulated by the Bahamas Gaming Board.