By SANCHESKA BROWN
Tribune Staff Reporter
sbrown@tribunemedia.net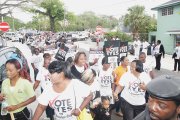 ASSISTANT Police Commissioner Hulan Hanna, said yesterday "Vote Yes" supporters did not break the law on Wednesday when they marched in Rawson Square and therefore police could not and did not arrest them.
In fact, ACP Hanna said they were given permission from the Commissioner of Police to demonstrate on Bay Street.
He was responding to criticisms from pastors in the "Vote No" campaign who questioned why police allowed supporters, web shop workers and web shop owners to demonstrate openly downtown.
"I can say unequivocally based on the information that we have gotten from our senior commanders that were in charge of the operation downtown that at no time did the police lose control of what was happening on Bay Street, but we duly note what was said," he said.
"I want to say that this police force, particularly this Commissioner, respects fully the right of individuals to express support or dissension in anything that is being discussed in a public forum and so that is where this force stands....anyone who wants to process in the streets of New Providence must seek the approval of the Commissioner of Police. When persons were allowed to go onto Bay Street they were not allowed to go onto Bay Street to gamble, persons were allowed to protest and have a demonstration. That is the context of which this Commissioner allowed the activity to take place."
ACP Hanna also said the police force has contingency plans in place whether Bahamians return a "yes" or "no" vote on Monday. He also said the police force will be just as prepared as they were during the May 7th elections.
"I can tell you that officers will be out from as early as 4am on the 28th and commanders will be at every constituency level and the same thing, the same numbers the same robust presence that we had during the general elections of May 7th is the very same presence that we will have because all of the laws apply," he said.
"That is liquor license establishments will be closed, persons will not be allowed to have any unfair advantage going on or coming out from the polls, there will be no coercion if persons have a private interest, they will pursue those interests outside the area where the law permits them not to be. This Royal Bahamas Police Force is highly energized so that we can do the people's business and the work. We are ready to do our work. This police force will not be caught with its proverbial pants down, we will be ready from day one from 12:01am, whatever happens. This RBPF will be ready to do the people's work."
ACP Hanna said he could "not answer intelligently" whether or not web shops will be allowed to operate on referendum day.