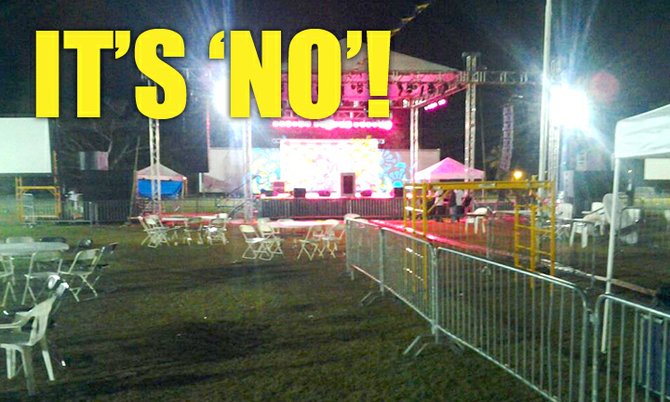 10.10pm - VOTERS in the gambling referendum have overwhelmingly rejected the legalisation of web shops and the establishment of a national lottery.
PLP Chairman Bradley Roberts: "The Prime Minister was clear that his government would be guided by the results of the Referendum and the will of the people notwithstanding the low voter turnout. The people have spoken and have rejected the regulation of Game Shops and the establishment of a National Lottery."
9.28pm - PASTOR LYALL BETHEL says his confidence in the Bahamian people has been restored, saying this is a victory for the Bahamas.
9.14pm - TOTALS SO FAR: Q1 22,658 YES, 24,059 NO; Q2 24,059 YES, 33,023 NO
8.54pm - FOX HILL VOTES 'NO' TO BOTH QUESTIONS
8.50pm - Q1 TOTALS: 20,364 NO, 30,067 YES; Q2 21,560 YES, 30, 101 NO
8.40pm - Question 1 totals so far: 19,540 YES, 30,785 NO
8.03pm - Total votes as of 7.30. There are 3,655 Yes votes and 5,689 No votes to the question of web shop gaming. For the national lottery 3,852 Yes Votes and 5,520 No Votes.
7.55pm - Results coming in fast with the 'no's still well ahead. In Elizabeth, however, the first polling division has a 'no' for web shops, but a 'yes' to a national lottery.
7.38pm - Totals so far show 'no's significantly ahead in both questions.
7.30pm - CARMICHAEL: 4 divisions in, all with 'no's on top in both questions.
7.15pm - GARDEN HILLS - Two polling divisions in, polling division four: QUESTION 1 - 37 YES, 33 NO; QUESTION 2 - 33 YES, 35 NO. Polling division 10: Q1 32 YES, 62 NO, Q2 34 YES, 59 NO.
7.10pm - BAMBOO TOWN - Six polling divisions from 14 have returned - All but one polling division have 'no's to both questions. Polling division nine has yes to both.
6.45pm - BAMBOO TOWN. Polling station 11: QUESTION 1 - 52 YES, 73 NO; QUESTION 2 - 53 YES, 69 NO
6:00pm - Polls closed.
5.00pm - Loretta Butler-Turner tweets: "Very low voter participation demonsrates (sic) lack of confidence in the process. Lack of confidence in leaders."
3.00pm - FML owner Craig Flowers on voter turnout: 'It doesn't surprise me, I don't think that there was enough excitement throughout the entire ordeal and we expected a low turnout.'