By PACO NUNEZ and
SANCHESKA BROWN
RECORD low voter turnout didn't dampen the spirits of the Vote No campaign, with church leaders and FNM officials celebrating what they described as a landslide victory in yesterday's gambling referendum.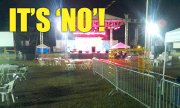 The final numbers were not in before press time last night, but at last count the proposition for legalised web shop gambling had been rejected by 24,872 to 16,005; while the national lottery vote was 25,091 to 15,937.
Less than 50 per cent of registered voters participated, Acting Parliamentary Commissioner Sherlyn Hall said. Some poll workers claimed the turnout was as low as 30 per cent.
Either way, it counts as the lowest turnout for a national vote in modern Bahamian history.
Mr Hall said the official results will not be ready until later today, but he admitted that unofficially, Bahamians overwhelmingly voted no.
In the lead-up to the referendum, Prime Minister Perry Christie emphasised that his government had "no horse in the race". Nevertheless, he warned that a "no" vote might lead to higher taxes and the shutdown of all web shops.
Mr Christie was criticised for spending an estimated $1 million on what opponents pointed out was a non-binding opinion poll, and was accused of being afraid to exercise his mandate to lead.
Calls to Mr Christie's home and office were not returned up to press time last night.
In a statement, PLP chairman Bradley Roberts, who during the campaign made no secret of his Vote Yes sympathies, congratulated the Bahamian people for taking part in a peaceful referendum and suggested that the illegal status of gambling for Bahamians would now be enforced.
He said: "The Prime Minister was clear that his government would be guided by the results of the referendum and the will of the people notwithstanding the low voter turnout. The people have spoken and have rejected the regulation of game shops and the establishment of a national lottery."
Mr Roberts added: "The Prime Minister is commended for his leadership in this exercise and for demonstrating great strength, focus and discipline in the face of harsh and in some cases misleading and unfair attacks. He was consistent in his position and never wavered when others have flip-flopped on this issue.
"As web shop gaming is currently illegal under Bahamian law, we expect that the government will allocate the necessary resources to enforce the law."
In the lead-up to the vote, opposition chairman Darron Cash accused Minister of State for National Security Keith Bell of attempting to "frighten" people into voting yes.
In what he called "the most ridiculous pro-gambling claptrap from the government's pro-gambling lobby wing", Mr Cash accused Mr Bell of suggesting that a no vote could have a negative impact on the police's ability to fight violent crime.
Former Prime Minister Hubert Ingraham, in an interview with the Tribune, expressed his thanks and appreciation to the Bahamian people – who he said "made the right decision."
Last week, Mr Ingraham encouraged voters to vote "no", because a low voter turnout will work to the benefit of those opposed to law and good order in our country."
FNM Leader Dr Hubert Minnis urged all registered voters to go to the polls and vote no, in an effort to "take a stand for justice and good governance".
Minister of National Security Dr Bernard Nottage, in an earlier interview, said the government will provide the police force with whatever resources it needs to enforce the law – whatever that may be – following the referendum.
Some web shop owners, among them Craig Flowers, said they would close their operations if the No Vote took the day.