By SANCHESKA BROWN
Tribune Staff Reporter
sbrown@tribunemedia.net
 OUT OF 38 constituencies in the Bahamas only three returned a majority "yes" vote, Acting Parliamentary Commissioner Sherlyn Hall said yesterday.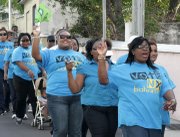 While the results are still not official, unofficially Mr Hall said nationally there were 48,012 no votes for the question on web shops and 30,767 yes votes.
There were 46,961 no votes for the national lottery question and 32,170 yes votes.
The results indicate that Bahamians overwhelming rejected both of the questions on the highly controversial gambling referendum on Monday.
Mr Hall said he could not release the exact number of persons who participated in the referendum as they were still waiting to inspect form Q's – the forms that indicate how many people voted at which polling station.
He did, however, say that voter turnout was extremely low although he did not want to speculate why "it happened the way it did."
Mr Hall also said initial results from Centreville, Bain and Grants Town and Englerston showed the yes vote won.
The Centreville constituency reported 1,407 yes votes for web shop gaming and 1,084 no votes. There were 1,395 yes votes for a national lottery and 1,117 no votes.
In Bain and Grants Town, 1,290 persons voted yes for web shop gaming and 931 voted no. On a national lottery, 1,119 persons voted yes and 882 voted no.
The final constituency to return a majority yes vote was Englerston. The constituency reported 1,150 yes votes on web shop gaming and 1,083 no votes.
There were 1,147 yes votes for a national lottery and 1,032 no votes.
Mr Hall said before official results can be released they have to first go to the Governor General. The official results as well as a voter turnout count is expected today.
However, in an earlier interview, Mr Hall said less than 50 per cent of those registered to participate in the referendum actually voted.
There was also a low voter turnout in the advanced polls, of the 6,519 persons who registered only 42.8 per cent or 2,702 voted.