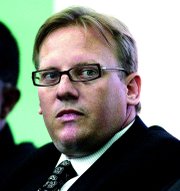 By NEIL HARTNELL
Tribune Business Editor
nhartnell@tribunemedia.net
A Cabinet Minister yesterday said money laundering concerns stemming from a banned/underground web shop gaming industry were "not very high", but others said it would be "naive" not to think the situation may attract international attention.
Speaking prior to Prime Minister Perry Christie last night calling for all web shop gaming to "cease with immediate effect", Ryan Pinder, minister of financial services, said any 'underground' activity that continued would "not be disproportionate" to the level of illicit financial activities that occurred in the US and other developed countries.
Asked whether an illegal or 'underground' web shop gaming industry might attract the attention of the G-20, and organisations such as the OECD and FATF, Mr Pinder replied: "I don't think any underground activity that may materialise from them would be disproportionate to the level that any other country has in existence.
"I don't think it rises to that level. If we get to the point where web shops have been closed, and underground activity is occurring, it would be minimal and not disproportionate with what happens in the likes of the US. There's usually some sort of underground activity in any country.
"The [money laundering] concern I don't think is a very heightened concern on that level. I don't think the resulting activity will be disproportionate to any other jurisdiction."
Both Mr Christie and the web shop operators themselves had indicated that allowing the industry to remain 'illegal', and unregulated and not taxed, left it susceptible to abuse by illegal activities and money laundering.
The sector is thought to hold thousands of accounts for patrons, many online, and this state of affairs was perceived as potentially attracting the attention of the G-20 and the FATF - the latter body having 'blacklisted' the Bahamas in 2000 for being uncooperative in the fight against money laundering.
And a leading businessman yesterday warned it would be "naive to ignore that risk. There's reason to be concerned".
Franklyn Wilson, the Arawak Homes and Sunshine Holdings chairman, told Tribune Business that the web shop operators had advocated regulation as a means "to reduce the risk of contamination of the financial system through other activities. They were making a point society should not ignore".
Mr Wilson drew parallels between the need to regulate the current web shop gaming industry, and the state of the Bahamas' casino gambling sector of the 1950s and 1960s. He said the introduction of regulations had helped to "clean up" the latter sector.
Possibly in a partial nod to potential international concerns over money laundering risks, Mr Christie last night ordered the closure with "immediate effect" of all web shop gaming operations - including their online operations.
He added: "Failure to do so will leave all such web shop owners, operators and web shop gaming patrons exposed to arrest and criminal prosecution without further notice or warning."
Shutting down the sector will difficult, and web shop operators last night confirmed they had hired attorney Wayne Munroe to help them challenge the Government's actions.
In any event, Island Luck's chief executive, Sebas Bastian, had previously told Tribune Business that while he would close his physical locations in the event of a 'No' vote, he would keep his Internet operation open.
Mr Bastian said his website and domain name were registered in the Isle of Man, raising major doubts as to whether the Government would have the legal authority to shut it down. All this indicates that web shop gaming in the Bahamas will continue apace, with Bahamians able to play from the comfort of their homes via the Internet.
"Even if you close the webshops, will people wishing to engage in this activity find a means by which to do so?" Mr Wilson asked.
He recalled one web shop owner saying just 25 per cent of his business came through the stores, and added: "What happens to that 25 per cent, and the other 75 per cent? One has to consider the possibility of the web shop operators finding some other way to harness that traffic."
Mr Wilson also warned that the "multiplier effect" from the web shop industry being closed "cannot be ignored".
Apart from the impact on its 3,000 employees, who might be out of a job, the Arawak Homes chairman said the sector's closure would also result in income losses for its landlords, business and service suppliers, utilities and both NIB and the Government.
Emphasising that he was not commenting on whether gambling was right or wrong, and whether it should be legalised, Mr Wilson said that if they were laid-off, the prospects of web shop employees finding alternative employment in the current environment was "relatively bleak".
The web shop industry's gross annual take was previously said to be between $370-$400 million, but recycle playing cuts that down to somewhere between $100-$120 million. The net after pay-outs from winning, and after operating expenses, was said to be around $60 to $70 million.
"The issues are a lot more than finding employment for a number of people, serious though that is," Mr Wilson said. "There are a number of issues out there."
He also questioned whether the legal argument could be made that the Government had already tacitly legalised the web shop industry, given that it had accepted its Business Licence fees and NIB contributions for years.
The matter is already headed to court, with Mr Munroe set to seek an injunction or stay to prevent the industry's closure.