By KHRISNA VIRGIL
Tribune Staff Reporter
kvirgil@tribunemedia.net
COURT action taken by web shop bosses over the government's order that the sale of numbers is to cease sparked criticism from FNMs yesterday.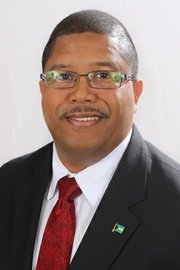 Peter Turnquest, Member of Parliament for East Grand Bahama, told Parliamentarians that despite a decision by Bahamians that they did not want web shops to be taxed or regulated, the numbers bosses were still able to use the court system to remain in operation.
As House Members met in the Upper Chamber lawyer Wayne Munroe was submitting an exparte application on behalf of operators of Island Luck, Island Game, FML, Chances and Whatfall.com. The action would allow their operations to continue until Monday when papers will be filed.
Mr Tunrquest said he believed that Attorney General Allyson Maynard Gibson could have given the government better advice on its next course of action.
"The Bahamian people," Mr Turnquest said, "are incredibly confused and quite frankly angry".
"As has been referenced previously, we are now made aware of some injunction that has basically, for lack of a better definition in my words, negated the whole exercise.
"In my opinion, she could have given more or better advice."
Before he could continue, seated Members of Parliament shouted: "Don't go there."
Fox Hill MP Fred Mitchell interjected on a point of order saying that blame could not be placed on the government for a decision that the court had made. Their orders, he said, would only stand until a judge was able to rule in the matter.
House Speaker Kendal Major urged Mr Turnquest to avoid speaking of the court process. However, Mr Turnquest continued to criticise Mrs Maynard-Gibson. His comments were ordered withdrawn and expunged from the records.
Defending the Attorney General, State Minister of Legal Affairs Damian Gomez said his office could not have prevented the web boss's move to defy the Prime Minister's orders.
"I am surprised," he said, "by the comments being made now on the floor. An action has been commenced as is publicly known that certain principals of a number of web shops have hired a lawyer who has taken out an exparte on notice application to a judge.
"The Attorney General's office could not have done anything to prevent that.
"I am surprised before any decision has been made the criticism is being channelled to my office which is completely unfounded and distasteful."
On Monday, as Bahamians turned out to the polls for the first referendum under the Christie administration, 48,012 no votes were cast regarding web shop gaming compared to 30,767 yes votes. There were 46,961 no votes and 32,170 yes votes to the question of a national lottery.