By DANA SMITH
Tribune Staff Reporter
dsmith@tribunemedia.net
FORMER PLP Cabinet minister George Smith said he hopes the web shop operators will prevail in their efforts to continue operating gaming businesses.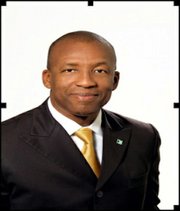 He said because of the economic impact web-shop taxation could have on the country's budget, as well as the hundreds of employees in the industry, the business should be legalised, regulated and taxed.
Mr Smith said gambling is a "personal and individual choice" and took note of the web shops' many employees who rely on the operations to make ends meet.
"We've got some church leaders who think they have a right to inflict their interpretations on the whole Bahamian community and sometimes not remembering the impact it has on the lives of people," he said.
"I read some quotes about a woman who works in the web-shops; she's a single mother with two kids and she rents a place and is doing fairly well. Now you're telling her that the entity where she works – which in her words has been good to her – can't happen any more and we don't think we have any responsibility to her?"
The former MP also noted the potential benefits a regulated and taxed web-shop industry could have on the country's finances.
"These are a group of men that have built businesses. There is some question about whether they were outside of the law or whether there was no law. In the absence of a law to regulate them, maybe they felt they were not doing anything in violation of a particular law," he said.
"But they built businesses and they're obviously successful. I take the view we have to find ways of legitimising enterprises which have had some economic success so that they can further expand and go into other businesses and add to growing the economy of the Bahamas which is so vital and so necessary.
"If the local gambling industry could have contributed whatever amount it is, $40 million, $60 million, to the national treasury, and expand and create more jobs, that helps the economy to grow. That puts us in a position where that amount could help, along with other things, result in a couple years of having a balanced budget."
Mr Smith said: "I think the chaps who are involved in this thing, they came forward and said, 'Look, we want to come under some control, we want to be taxed. So agree to this thing so we could be regularised and taxed.' Well the majority of the votes on Monday told them no. So they availed themselves of their right to use the legal proceedings. They have undertaken to do that which they think is their right and actually, I hope they prevail."