by RENALDO DORSETT
Sports Reporter
rdorsett@tribunemedia.net
 Track and Field season is in full swing, which means each weekend is an opportunity for young track and field athletes to showcase their talent in preparation for local and international competition throughout the year.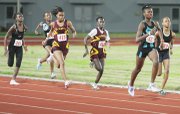 The Star Trackers Track and Field Club will host the next in the series of meets with the 10th Annual Baker Concrete/Greyco Ltd "Star Performers Track Classic", on Saturday, February 2, at the Thomas A Robinson Stadium. 
Star Trackers Head Coach David Charlton said with the international competion expected to compete this weekend, the meet will be a fitting prelude to this April's Carifta Games.
"In the ten beautiful years, the event has grown. We have athletes coming in from Barbados, Jamaica and Puerto Rico as well as the United States and of course our Family of Islands.
"This event is kind of a prelude to Carifta. Carifta is going to be here in Nassau. So this 10th star trackers is going to be used as a dry run for the Carifta Games," he said in an interview on the "Morning Boil" on Island 102.9FM.
"It should be very exciting the meet is going to take place inside the new National Stadium so that we can  work out the kinks. They are also brining out all the new equipment, all the good stuff."
The track meet is for divisions under seven (Under-7) to Masters.  It is sanctioned by the Bahamas Association of Athletic Associations (BAAA) and International Amateur Athletic Federation (IAAF) rules apply.
Competing this year are athletes from the United States of America, Puerto Rico, Barbados and Jamaica along with our Bahamian athletes from Abaco, Eleuthera, Grand Bahama, Long Island, Spanish Wells, Moores Island, Acklins, Crooked Island, Long Cay and New Providence.
"This is going to be the first full blown track meet to take place in the stadium  and as an organisation we are very proud of that and we are very appreciative that the National Sports Authority allowed us to use the stadium," he said.
"We are going to have kids as young as seven years old right up to  aspiring athletes who want to make the Olympic Team. Also the kids who want to qualify for Carifta can use the opportunity to put their marks down. We are going to see some fantastic performances and our intention is to get the stands filled with Bahamian people."
Coach Rudy Ferguson said that local athletes have already taken a sense of pride in the Carifta Games being hosted in New Providence, and are looking to record top performances every weekend.
 "The Star Performers Classic this weekend is going to be nothing like you have seen before locally. The meet has grown tremendously, and we have international competitors coming in," he said, "Now you have to understand this is Carifta year, we have not been successful at the Carifta level in terms of winning it in a long time. I have seen that level of competition grown and the intensity is already in the air, the excitement is mounting and I believe this is our time and it all starts this weekend. Our kids will step to the plate and make us all proud."
 There will even be a special appearance from the Bahamas Special Olympic athletes.
 Vice President of Operations at Greyco Ltd, JR McDonald said his company shared the vision of aiding the development of young athletes.
 "As a corporate citizen I think that we should all do our part. We all owe this community something and we should give something back," he said, "These guys came in presented a program showed us their vision and what they were trying to do and they are really helping these kids. What they needed was a good prime sponsor and we decided that we would disregard everyone else, put all our eggs in this basket and see how we can turn this thing around and these coaches are doing a phenomenal job."
 Admission is $5 for adults and $3 for children under 10.
There will also be a Kiddies Corner with face painting, bouncing castle, balloons and lots of fun and games.
The Star Trackers Track & Field Club is a non-profit club officially started in 2001. It has over 40 high school athletes registered for this season. 
The Star Trackers are proud to state that in their short history, over 30 of their student athletes have received athletic scholarships to colleges or universities in the United States. 
Eighty per cent of the club's current athletes hold a 3.0 or higher grade point average (GPA).
For more information on the club, visit the website at www.startrackersbahamas.com or e-mail at startrackers2001@gmail.com