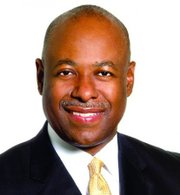 MINISTER of Tourism Obie Wilchcombe was a special guest lecturer in Freeport at First Baptist Church's celebration of the life of Sir Lynden Pindling, entitled "On Their Shoulders."
Mr Wilchcombe spoke about his time travelling with Sir Lynden as a news reporter.
He quoted the former prime minister, who said in 1975: "Political independence for the Bahamas is almost meaningless unless it holds forth the prospect of economic independence. Just as a target date was set for political independence, a target date should be set for economic independence.
"And just as the path to political independence was taken through stages, similarly the path to economic independence should be taken through stages."