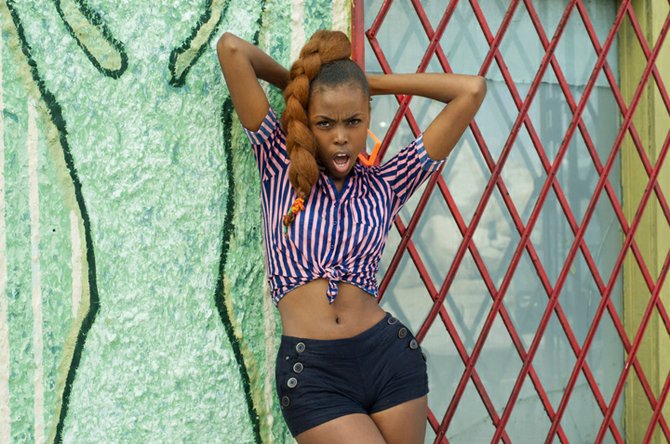 By ALESHA CADET
Tribune Features Reporter
acadet@tribunemedia.net
BAHAMIAN model and singer Kendra KayGeni James has expanded her talents to clothing and design with her new line called 'Thatch Collections' - designed for women of any size, shape and lifestyle.
She said: "I wanted  a mix of sexyness and simplicity. I also wanted to create pieces that any woman could feel confident and comfortable wearing."
In April, Kendra got the chance to strut on the global runways of the Caribbean's Next Top Model (CNTM) a televised reality show that reached out to her for an audition.
The show is known as the regional franchise of the internationally acclaimed Next Top Model series by American Tyra Banks.
The best advice Kendra said she received while on the show was to just believe in herself and what she has to offer.
"I've learned to embrace every single thing about me, good and bad. My flaws are part of what makes me, me," she said.
Offering her own advice to Bahamian women, Kendra said nothing is impossible once you believe in yourself.
She said she was inspired to start her own clothing line because she wanted more out of style and fashion, that she was not getting.
"It initially started out as me playing around with a sewing machine, breaking a million needles trying to teach myself how to use one, and then finally getting the hang of it. I knew I was ready when I would wear something I made and someone would go "I love that! Where did you buy it?" said Kendra.
She said the name Thatch Collections came to her because she wanted something that would make people think of the simplicity and calmness of the island life.
Kendra said once she came up with the name, she knew exactly what she wanted her pieces to reflect - the easy going elegance of the islands.
Speaking about new fashions becoming popular this season, Kendra said: "I feel like this season we are going to see a lot of free flowing, playful, girlie trends. Also, bright colours are always in for summer."
Where does she see Thatch Collections years from now?
Kendra said she would like to have her own clothing store to not only have her items on sale, but also feature other great Bahamian fashion designers.
"I really look forward to seeing my craftsmanship improve and grow. I know the future hold great things for me," said Kendra.
Kendra said all fashionistas can expect a burst of colour and texture from her collection this summer. She said she is excited to show them off.
For all interested persons, Kendra said her designs are made by order on the Thatch Collections Facebook page, or by email at thatchcollections@gmail.com