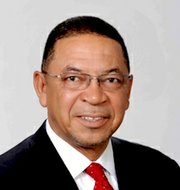 By DANA SMITH
Tribune Staff Reporter
dsmith@tribunemedia.net
THE IMMIGRATION department barred the press from touring the Carmichael Road Detention Centre with an opposition MP yesterday – despite admitting that the proper application process had been followed.
Shadow minister of immigration Hubert Chipman had invited the media to accompany him on the visit – during which he saw no signs of abuse and found detainees to be in "relatively good condition" – but the reporter and photographer were turned away without explanation.
When contacted later, Assistant Director of Immigration Fausteen Major-Smith suggested it was a matter of protocol.
"We don't allow media in. It's just one of the rules," she said, explaining that only Immigration Director William Pratt or Minister Fred Mitchell could authorise media visits, after an application is made.
But, she added, an application was actually made.
"Mr Chipman did request it and he was denied. He was told if he wished to speak to the media, he could do so after his tour, outside the facility, outside the premises," she said.
Following the tour, Mr Chipman told the press that while he didn't see any evidence to substantiate the recent claims of beatings at the facility, conditions at the detention centre could be better.
"As you can see, the area is very, very low and there's a lot of flooding – including in the dormitories. So when it rains, there's a problem here in the detention centre," he said.
In addition to flooding, the centre could be faced with an overcrowding problem because of the number of dormitories – although more than 200 of its inmates were deported yesterday about 140 remained.
"There are only three dormitories – there are two male dormitories and one female dormitory," Mr Chipman said.
"Overcrowding I wouldn't say is a problem right now because they are deporting 228 people today. I asked the question whether in fact there was a mass migration to the Bahamas, how would they handle that, and it was suggested that the only thing they could possibly do is to pitch tents, at this particular time.
"Let's say there's a mass exodus from Haiti or Cuba, we really do not have the space to house them. As you know, the prison is overcrowded so there's very little room that we do have."
Mr Chipman, however, noted that two additional dormitories, which were destroyed by fire some time ago, are to be rebuilt and, a CCTV system is to be installed by Friday. He also said detainees contribute to "destruction" at the centre.
"I would say it's probably adequate, but it could be in much, much better condition," Mr Chipman said. "What you would find in there is a lot of destruction by the detainees. Particularly, the bedding – they sort of pull the springs out to make weapons and so forth and so on; so they create the mess they are in, I would say that much."
Speaking about the detainees he said: "The detainees, relatively, are in good condition. Most of the men were bareback, most of them had on flip-flops, shot pants. The ladies appear to be in good condition. I also asked how often do they do health screenings – and they do health screenings when the detainees come in and at least once a week the doctor comes down."
Mr Chipman said he did not, however, speak to any of the detainees.
"I did walk through the dormitory but didn't have an opportunity to speak with them – none of them – but like I said, as I indicated, they appear to be in good condition. "I did not see any evidence of abuse, none whatsoever."
The most recent allegation of abuse at the detention centre came with a video aired by America Teve, which purported to show Cuban nationals being abused by a Bahamian guard. It was debunked by Mr Mitchell, and FNM party chairman Darron Cash also dismissed the credibility of the video, as did Mr Chipman.
But, despite the Bahamas government's denial of the claims, Republican congresswoman Ileana Ros-Lehtinen and Congressman Mario Diaz-Balart charged that harassment and beatings of Cuban detainees in the Bahamas was a long standing human rights issue that has gone "unabated".
They called on the United Nations to investigate allegations of abuse of Cuban nationals at the detention centre.
According to The Miami Herald, supporters were asked to honk their car and truck horns as they drove past the Bahamian consulate in downtown Miami, last month. It is unclear whether supporters demonstrated outside the consulate as calls placed to that office were not returned.
More like this story