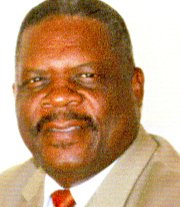 By ALESHA CADET
Tribune Features Reporter
acadet@tribunemedia.net
A CONFERENCE of 'prophetic revelations' concerning the Bahamas' past, present and future has been held to mark the 40th Anniversary of Independence.
The three-night gathering was organised by the Bahamas in Prophecy organisation, with the final night tonight, at 7.30pm, at the workers house on Harold Road.
Prophet Micklyn Seymour said: "It's our hope that the conference will help us to understand and develop a deeper appreciation for who we are as a people. This is a very important time and God is calling the people now to embrace the prophetic history in him, to move forward."
Prophet Seymour said the theme for the conference was "unveiling God's prophetic and redemptive purpose plan for the nation".
"For the last 20 years, God has been revealing how the Bahamas is written down in the scriptures to fulfil end-time prophecy. He has revealed how the islands to which the prophet Isaiah referred to in his writings is none other than the islands of the Bahamas," said Prophet Seymour."
Prophet Seymour said: "Christopher Columbus believed he was inspired by the Holy Spirit through the writing of the prophet Isaiah and divinely directed to these islands by God. This is seen in the fact that he planted a Cross and not a dagger or a gun when he landed.
"The prophet Isaiah prophesied that the time will come when the glory of God will be seen in the islands and when the inhabitant of these rocks will praise him.
"God has also revealed that these islands will be used as an 'Israel' to the gentile nations and will play a major role in the Jews acceptance of Yahshua as the messiah and returning to Him," said Prophet Seymour.
Prophet Seymour believes the history of the Bahamas is similar, and parallel, to the biblical history of the nation of Israel.
"A close study will reveal that every Holy Day in Israel is celebrated in The Bahamas as a holiday, the same time they are celebrated in Israel.
"For an example, Majority Rule and Independence took place on the dates Israel went into exodus and entered the Promised Land respectively," said Prophet Seymour.
At the conference, it has been shown how, and proven scientifically and scripturally, that the islands of the Bahamas are the Pre-Adamic location of the original mountains of Zion and the Pre-Adamic location of the original Garden of Eden, said Prophet Seymour.
"The time has come for our nation to understand and celebrate the hand of God in the affairs of our nation because in doing so we embrace his divine purpose and plan for us as a people," he added.