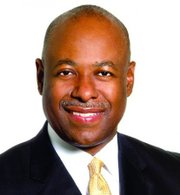 By KHRISNA VIRGIL
Tribune Staff Reporter
kvirgil@tribunemedia.net
A NEWLY imposed processing fee which has sparked the threat of a major cut back from US airlines coming to the Bahamas is an implication that the economy cannot afford, according to Tourism Minister Obie Wilchcombe.
While the new tax was announced and introduced in the House of Assembly during the yearly Budget debate, Mr Wilchcombe admitted that there was no meeting with the airlines prior to the increase.
He said a lack of understanding by the airlines of the new tax could be to blame for the negative response the government was now receiving.
"If they are informing us that the increase affects them negatively," Mr Wilchcombe said, "and could cause them to pull out of servicing the Bahamas, then certainly we would have to sit down and talk with them and see what their concerns are.
"Over the last two years, our airlift was down and we now have to work hard to bring the numbers up.
"While we did announce that there would be a processing fee I don't think that there was a real understanding by the operators.
"But with a threat as real as this one, we cannot afford it and we will have to consider what their concerns are on the matter." 
Mr Wilchcombe said that airlift is a major support for the hotel and tourism industry.
Officials are hoping that in the next 12-24 months, passengers travelling to the Bahamas by air can reach to around 1.8 to 1.9 million passengers. Any withdrawal of service could render that goal unattainable.
The wave of backlash and the "dangerous reality" came, according to Tribune Business, when certain airlines representing 90 per cent of US airlift into the country wrote to Customs Comptroller Charles Turner saying they "may be forced to reconsider their service levels to the Bahamas."
The letter sent on June 28, 2013 was on behalf of operators, including Jet Blue, Delta and American Airlines which expressed a concern for the short notice.