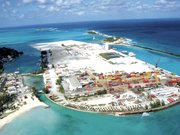 By NEIL HARTNELL
Tribune Business Editor
nhartnell@tribunemedia.net
Contractors are bracing for a further 10 per cent increase to construction material prices after the only shipping company providing direct service to the Bahamas from Jacksonville last night confirmed it would pull out come early August.
In a letter sent to its Bahamian customers, and which was copied to Tribune Business following this newspaper's inquiries, Crowley yesterday said it had been unable to cover "significant" cost increases on its Nassau route, thus making it "unsustainble".
The shipping carrier confirmed the last sailing of its Jacksonville-Nassau service will be on August 2, 2013, with the Port Everglades-Nassau route ceasing on August 6.
"We regret to inform you that after 19 years of service to Nassau, Bahamas, we will be ceasing operations effective with the last southbound sailings – from Jacksonville on August 2, and from Port Everglades on August 6," Crowley told its Bahamian clients.
"This was a particularly difficult decision for Crowley given our longstanding service and investment in the trade, but after careful analysis and much deliberation, we concluded that it was necessary.
"Our costs to operate and serve the Nassau market have grown significantly the last few years, and efforts to cover our costs were not sustainable in the market."
Crowley's pull-out leaves a big hole in the Bahamian shipping market, which has seen three other carriers - Atlantic Caribbean Line (ACL), Seaboard Marine and G&G close their Nassau routes in recent years.
For an economy that relies heavily on shipping for the importation of goods that are the lifeblood of its economy, Crowley's withdrawal is not good news for the Bahamas.
And suspicions are already being voiced that Arawak Port Development Company's (APD) Nassau Container Port, with its higher fees, is at least partly to blame for the shipping carrier drop-off.
This has been denied in the past by APD's chief executive, Michael Maura, who suggested that the service cessations were related more to internal issues at the affected carriers, such as the recession's impact on rates and high fuel prices.
Still, the Crowley withdrawal leaves the Bahamas at the mercy of a shrinking group of shipping companies, dominated largely by Mediterranean Shipping Company (MSC) and Tropical Shipping.
And Crowley was also the only carrier providing direct service to the Bahamas from Jacksonville, something that has left Bahamian construction companies and building materials suppliers especially worried.
With key materials, such as plywood and shingles, largely manufactured in Georgia as opposed to Florida, Crowley's Jacksonville route has enabled Bahamian companies to escape the in-land freight costs associated with shipping goods through the 'Sunshine State' to Miami.
One building materials supplier, speaking to Tribune Business on condition of anonymity, said that unless MSC converted its existing 'indirect' Jacksonville service into a direct route, thus picking up the slack left by Crowley, "there's going to be a major impact for us here in the Bahamas".
They pointed out that with building material prices already at "all-time highs", any further increase would further depress an already-struggling construction industry.
The supplier explained: "Most of our product comes out of Jacksonville, and Crowley are the only ones that ship direct. All the containers will now have to go through south Florida, so we'll have to pay more for inland freight and the price is going to go up.
"Shipping rates go up, prices go up, as you have to add on trucking. Jacksonville to Miami will cost $700-$1,000 for any type of full load, 20-fo container."
The supplier added that Crowley's withdrawal from the Bahamian shipping market meant there was less competition between carriers, which would also spark an increase in cargo rates - effectively a "double whammy" for the Bahamian economy.
"You will see an increase in prices, there's no doubt," he told Tribune Business. "It probably wouldn't be substantial, but building materials are at an all-time high because of the lack of supply, as demand fell so low.
"Demand is now coming back, and supply not as fast. You're going to be looking at a 10 per cent increase at least on top of very high prices now.
"This [Crowley's pull out] is very negative. The main reason is the Port charges. They can't sustain them."