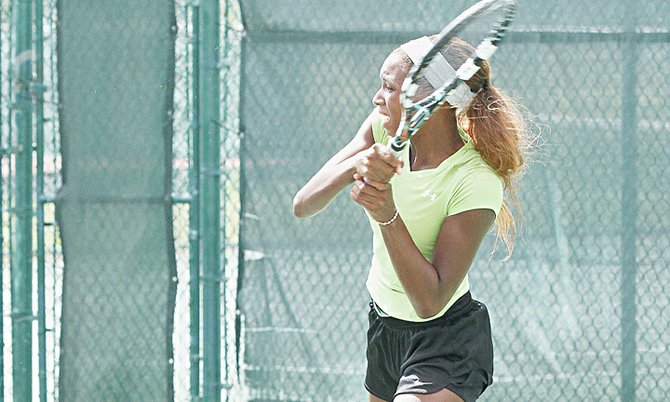 By RENALDO DORSETT
Sports Reporter
rdorsett@tribunemedia.net
Two players remain in the singles main draws for the Bahamas as the ITF Juniors Junkanoo Bowl moved into the quarterfinals at the BLTA National Tennis Center yesterday.
Simone Pratt and Rasheed Carey booked spots in the semifinals after a pair of straight set wins on the fourth day of the tournament.
Pratt, the seventh seed in the Girls 18 draw, advanced with a 7-6(10), 7-5 win over second seeded Mia Horvat of the United States. She will face unseeded Nadini Das of India in the semifinals after her 6-0,6-3 win over Elizabeth Sutherland of the United States.
Pratt looks to rebound from a loss in the final of the 2011 Junior Junkanoo Bowl where she came from the ranks of the unseeded but came up short in a 6-2, 6-0 loss to the No.1 seed Kristina Chasovskikh of Russia.
Carey is on a similar path this year in the Boys 18 draw after he eliminated Luis Eduardo Morfin Friebel of Mexico 6-0, 6-3.
Friebel had previously pulled off an upset against a Bahamian player by eliminating Shaquille Taylor in the opening round 2-6, 6-4, 7-6 (6).
Carey lost in the opening round of the 2012 Junkanoo Bowl
Both seeded Bahamian players exited the quarterfinals after dissappointing losses.
Fourth seed Kevin Major Jr fell 6-4,6-1 to seventh seed Anudeep Kodali of the United States and sixth seed Christian Cargill lost to top seed Toshiki Matsuya of Japan 6-4, 6-2.
In doubles, Major and Cargill, ranked second in the draw, were ousted in the semifinals.
The only all-Bahamian duo remaining in the draw lost 6-4, 7-5 to Kodali and Alejandro Tabilo of Canada, the third ranked team in the draw.
Cargill and Major reached one round further in last year's edition of the final where they lost in the final to Nicolas Jarry of the United States and Juan Sebastian Marino of Colombia.
Taylor and Jack Van Slyke, the fourth seeded team, won 4-6, 6-3 (10-4) over Carey and Pablo Landa Catan of Mexico.
The tournament featured some of the world's best junior players, including those from countries like Netherlands Antilles, Russia, Israel, Great Britain, Canada, USA, Mexico, China among others.
Play is slated to continue today.