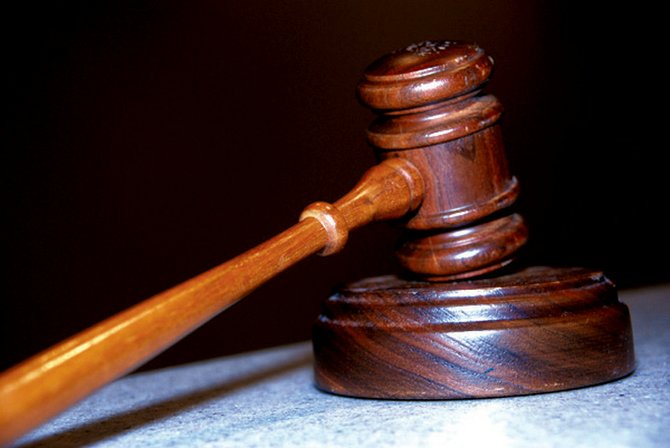 By LAMECH JOHNSON
Tribune Staff Reporter
ljohnson@tribunemedia.net
A POLICE investigator has been accused of 'sweethearting' with a woman who reportedly resided at Yorkshire Drive where a decomposed body was found behind an apartment complex, the Marco Archer murder trial heard.
On the 57th day of the trial, Assistant Superintendent of Police Bernard K Bonamy Jr testified yesterday about his role in the investigation into the discovery of an unknown male, believed to be Marco Archer, in bushes behind the complex and subsequent interview with Kofhe Goodman, who was the then-suspect in the alleged disappearance and murder.
In cross-examination, attorney Geoffrey Farquharson suggested to the former head of CDU's homicides section that he was sweethearting with a woman who once resided at the address but was kicked out by the accused in this case.
ASP Bonamy Jr denied sweethearting with the bar maid he admitted to knowing for a decade.
Goodman, 38, of Yorkshire Drive, faces a murder charge, which he denies, that between September 23 and 28, 2011, he caused the death of Marco Archer, 11. Archer, who disappeared from Brougham Street, was found dead days later.
Yesterday, ASP Bonamy Jr was called to the stand as one of the prosecution's last witnesses and was asked about what he did on Wednesday, September 28, 2011.
"Sometime around 9am I received certain information. As a result of receiving that information, I proceeded to Yorkshire Street," the officer said.
He said when he arrived he met a number of officers there, spoke with an Inspector Bullard and was led to a five-plex which he noticed had a remote control gate in the front.
"I was then shown a body of a male that was unwrapped in a sheet in plastic,' he said.
He gave the officers instructions, he said, before he received information from an officer that prompted him to move to a garbage area where, he said: "I was shown khaki pants, a dark coloured shirt with the words 'Bob Marley', boxer shorts and a pair of blue Nike slippers."
He gave instructions to have the items photographed before escorting the decomposed body to the morgue at the Princess Margaret Hospital, the court heard.
ASP Bonamy Jr said that because of the decompositon of the body, no positive identification was made.
The officer said he went back to the CDU where a meeting was held with persons believed to be the family of the person who was found and the items collected from the Cable Beach scene were shown to them.
"At this stage someone shouted 'Oh Lord why Marco?!'" he said.
ASP Bonamy Jr said he had a record of an interview with Kofhe Goodman around 12pm on October 2, 2011 while in the presence of his then-attorney Tecoyo Bridgewater, which took place in an interview suite.
"I told Kofhe Eduardo Goodman that he was suspected of kidnapping, sexually assaulting and causing the death of Marco Archer who was reported missing on September, 24, 2011," the Supreme Court jury heard.
The suspect was asked a series of questions before the interview was dismissed, a discussion was had with Sgt King and Goodman was charged in connection with the death of Marco, the court heard.
The interview was read in court.
"Do you know Marco Archer?" the policeman asked while holding up a photo of Marco, according to the interview record.
"No sir" Goodman said.
"Can you explain your whereabouts on September 23?" the investigator asked.
Goodman answered that he, his son Eduardo Jr and his nephew were together all day and when asked, said he resided at Yorkshire Drive.
The investigator asked the then-suspect if he could explain how some clothing belonging to Marco Archer was found in his garbage.
"I have no knowledge of that," Goodman reportedly said.
He also apprently said he had no knowledge of how a decomposed body got behind his apartment and denied to comment on a white Nissan Maxina he said he was driving but didn't own.
"Did you kill Marco Archer?" the investigator apparently asked.
"No sir," Goodman replied.
"Did you sexually assault Marco Archer?" ASP Bonamy Jr asked. Goodman again replied: "No sir."
Yesterday Mr Farquharson asked ASP Bonamy Jr if he knew a woman named who worked as a barmaid at a place he named.
ASP Bonamy Jr said she was a friend from Freeport whom he had known for 10 or 11 years.
Mr Farquharson suggested he knew her position as a barmaid was a cover for 'certain other services in that bar.'
"Yes sir," the officer said. Mr Farquharson suggested to the witness that the woman was known to police.
"I know she is a barmaid. I didn't know about her lifestyle?" Bonamy said.
Mr Farquharson asked Mr Bonamy, who was then officer in charge of the homicides unit at CDU, if he was aware that the barmaid had moved in with a woman, Amanda Seymour-Burrows, and her daughter days before the two were found dead floating in waters near Prince George Wharf.
Mr Farquharson said the investigation into that death in September 2011 was linked to the case in question through the barmaid.
ASP Bonamy Jr said he was not the investigator of that death but had been reported to him, as all deaths are.
Mr Farquharson asked if Mr Bonamy became aware that Amanda Seymour-Burrows was living with the barmaid.
"It was brought to my attention, yes sir," the investigator said.
Asked if the barmaid was a suspect in their 'sudden deaths', the investgator said the barmaid, based on phone records, was one of the last persons Seymour-Burrows spoke with but was never a suspect.
"You and your officers classified the death as unexplainable," the attorney suggested.
"It wasn't classified as murder," the investigator said.
"It was referred to the coroner for investigation," the attorney suggested.
The investigator agreed.
Mr Braithwaite objected to the question on the basis of its relevance.
Mr Farquharson said the case for the defence was that Mr Bonamy "was sweethearting with this woman."
"Where is the evidence of that?" said Mr Braithwaite.
Mr Farquharson suggested to Mr Bonamy Jr that he knew she resided at Yorkshire Drive.
"Yes sir," the investigator asked.
"You knew that she was put out by this defendant," the attorney suggested while pointing to his client.
"I don't know about that," said the policeman.
The attorney said he was lying and suggested there was a text message and phone records to prove otherwise.
"I knew she left but I never knew the reason," said ASP Bonamy Jr.
Mr Farquharson suggested to the officer: "You used to go to this unit to sweetheart with the barmaid."
"No sir," the policeman said.
"Are you telling this court on oath that you never went to these units?" the attorney asked.
"Never," ASP Bonamy Jr answered.
The trial resumes on Monday.