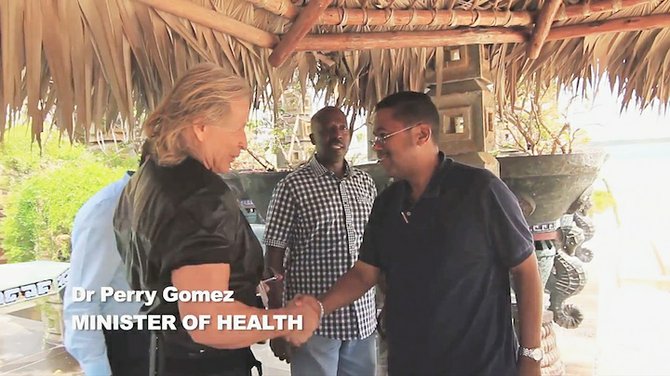 MINISTER of Health Dr Perry Gomez yesterday claimed a video on YouTube showing PLP MPs at the home of Peter Nygard was from before the election – despite the MPs clearly being introduced to Mr Nygard as ministers.
The video – titled Nygard Takes Bahamas Back – shows the businessman celebrating the PLP election and then later being introduced to Deputy Prime Minister Philip 'Brave' Davis, Education Minister Jerome Fitzgerald, Housing and Environment Minister Kenred Dorsett, Agriculture Minister V Alfred Gray, Housing Minister Shane Gibson and Dr Gomez. Mr Gibson introduces the MPs by their post-election ministerial titles, not as election candidates.
As Mr Nygard and Dr Gomez shook hands warmly, they each said to the other: "It's very good to meet you," indicating that this was their first meeting.

During the meeting, Mr Nygard talks to the ministers about the election result, saying: "It is a great victory."
Dr Gomez was asked about his appearance in the video during the opening of the new telemedicine centre at Princess Margaret Hospital. His answer was shown on TV station NB12 last night.
He said: "I was at Nygard's, I was invited to a barbecue or something before the election. There were a number of PLP MPs-to-be."
Dr Gomez said that Mr Nygard spoke about stem cells, adding: "I know Mr Nygard has an extensive knowledge of stem cells."