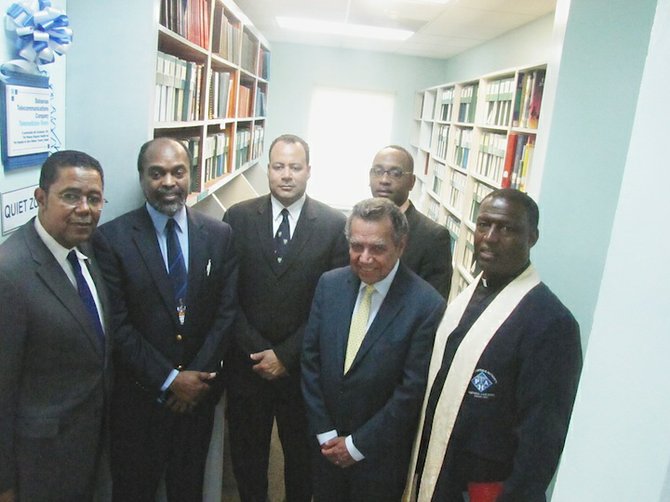 By RASHAD ROLLE
A $100,000 tele-medicine lecture lab was launched in the oncology centre of the Princess Margaret Hospital yesterday.
The initiative will aid in the treatment of paediatric cancers and blood diseases.
It comes as part of a partnership between the Public Hospital Authority (PHA), the Bahamas Telecommunications Corporation (BTC) and the Sick Kids Caribbean Pediatric cancer and blood foundation.

BTC's $100,000 donation provides the tele-medicine lecture lab with the equipment to offer improved paediatric services, including real time video conferences linking persons at distant sites.
The tele-medicine lab is also expected to assist local doctors, providing them with continuing education opportunities and allowing parents of sick children to speak directly with a foreign medical team about the diagnosis and treatment options for their child.
Speaking during yesterday's launching programme, Dr Robin Roberts of the University of West Indies noted that the "poor outcomes" for children with cancer and blood disorders in developing countries compared to the outcomes of those in developed countries inspired efforts to provide better services to children with serious diseases.
"Tele-medicine is godsend," he said.
Victor Blanchette, the Chief of Haematology/Oncology at Sick Kids, praised the modern advancements that allow serious diseases and disorders to be better treated.
"Today," he said, "using a combination of chemotherapy, radiation therapy and surgery we are able to cure approximately 80 per cent of the 400 children seen each year in the children's cancer program at SickKids –– just 50 years ago a diagnosis of cancer would have meant almost certain death for all of these children.
"Our strategy is to partner healthcare specialists at the hospital for sick children in Toronto with their counterparts in the Caribbean using modern technology such as tele-health, facilitating real time case consultations and knowledge transfer beginning September of this year.
"Today is a milestone in the development of this dream and I wish, on behalf of the team at SickKids and my colleagues in the Caribbean, to thank the Bahamas Telecommunications Company for their very generous donation."
The Sick Kids Foundation is based in Toronto, Canada. In February this year, the foundation launched a project aimed at improving diagnoses and outcomes for children affected by cancer and blood diseases in six Caribbean countries – Barbados, Jamaica, St Lucia, St Vincent and the Grenadines, Trinidad and Tobago and the Bahamas.