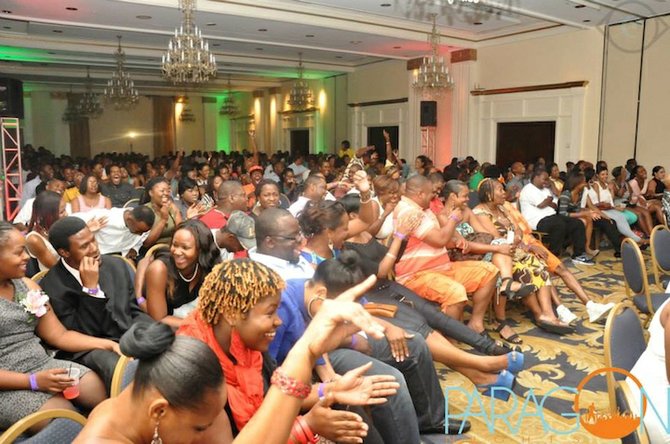 By ALESHA CADET
Tribune Features Reporter
acadet@tribunemedia.net
PARAGON Nights Entertainment recently presented and delivered another successful Comedy Wild Out show at the British Colonial Hilton.
After a well attended show last month that featured comedians Red Grant, Barbara Carlyle and JJ The Bahamian Bernie Mac, members of the organisation told attendees to expect a comedy show hosted every first weekend in the month.
A week ago, the show was headlined by international comedian Michael Blackson, who is known as the African King of Comedy.
Blackson is also known for his 'mudda sucka' performance in the comedy movie, 'Next Friday.'
The comedy show also featured Nassau's very own Demetrius the Karaoke King and was hosted by comedian Nick Lewis.
In an interview with Tribune Entertainment, Michael Blackson said he enjoyed performing for the Bahamian crowd.
He doesn't have to make many changes for the crowd.
"I think that Caribbean people can relate to me because I am from Africa and I think we have a lot in common," said Blackson.
"Pretty much the material I use while performing in America, I use here.
"This is actually my fourth time coming here. I think the last time I did something was probably two years ago at another location. They show me a lot of love here every time I come, the radio and the people are always excited to have me and the show was great, I have no complaints."
When speaking about Demetrius's performance, Blackson said: "He is crazy and funny. The one thing I noticed about the Caribbean comedians, because I actually did a show many years ago in Trinidad and Tobago, a lot of them dress up real crazy for their performances. In America we kinda let our jokes do the talking.
"I notice that on the island sometimes the people prefer more physical comedy, but Demetrius's performance was interesting and it was different. When I perform I like to perform with people who are different," said Blackson.
Offering advice for up and coming Bahamian comedians, Blacks11on said: "Whatever you put your mind to as a person, I think you can be successful if you just stick with it. I have been doing this comedy thing for the past 20 years and it's just now that a lot of people are trying to manage me and get me to that next level.
Don't take no for an answer, just keep at it and believe in yourself."
Nelson Armaly, of Paragon Nights, told Tribune Entertainment: "There are a lot of Bahamians that we don't get to see, and they are very funny. So we are giving them a chance to showcase their talent at our shows. People are coming from America to here to perform, so why is it that Bahamians can't leave here and go to America also to showcase their talent. I want us to get to that point where the media and contacts that I have can work for Bahamian comedians."
Mr Armaly said since the last show, Bahamians have been very appreciative of the idea that a showcase will be hosted by Paragon Nights every month.
He said: "Everyone has been saying that this is something that they really wanted and it is something that they were looking for. That crowd that came out last month, I have never seen that crowd at a comedy show before so I was really impressed and happy with that.
"They just want to make sure that it is consistent, they don't want us to start and then stop. We assured them that it's not going to be an issue and we are definitely going to keep this going on," said Mr Armaly.
Nick Lewis said he's worked with Mr Armaly for about three years now and every experience is better than the last.
"I just enjoy being in the Bahamas, everybody is so supportive. Hopefully the Bahamian crowd can continue to respect comedy for the talent that it is. Sometimes you might not recognise some of the names of the comedians, but it is not to say that the person is not funny," said Mr Lewis.