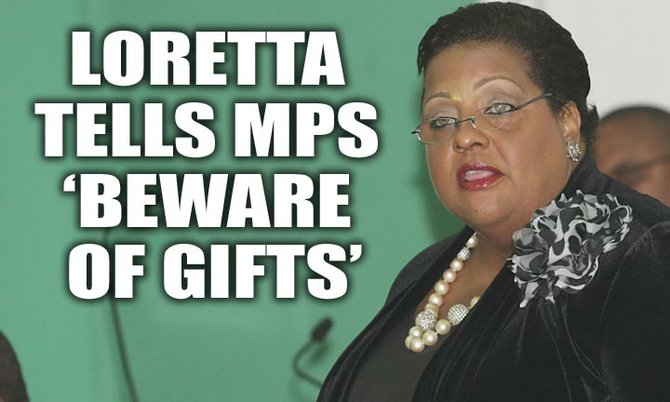 By SANCHESKA BROWN
Tribune Staff
Reporter
sbrown@tribunemedia.net
FNM Deputy leader Loretta Butler Turner warned Parliamentarians to be "careful of the gifts they accept" from certain individuals because of the impression it could give to the Bahamian public and the world.
Speaking amid accusations that fashion designer Peter Nygard donated a large sum of money to the PLP's election campaign in exchange for cell stem research legalisation, Mrs Butler-Turner also asked MPs to consider the perception created by the controversial "Nygard takes back the Bahamas" video, in which several PLP ministers are featured.
Both Prime Minister Perry Christie and Mr Nygard have denied that the fashion mogul is influencing government policy.
On Tuesday, Mr Christie had promised to clear up the Nygard issue last night, but the House suspended before his turn to speak. He did make statements in his defence during an argument with opposition leader Dr Hubert Minnis, but the exchange was expunged from the record.
Mrs Butler-Turner said: "Peter Nygard as an individual has a video that has gone viral and the perception whether it is real or not is that he took back our country – our Bahamian country – and that is what is out there to the world," Mrs Butler-Turner said.
"The world is seeing that, and how do we look as a people when a man who is a billionaire says he has taken the country back? How do we look when he is out there surrounded by his bevy of young women and toasting, inserting portions of the prime Minster on victory night then showing the minsters coming to his compound after the election, bowing and shaking hands, how does that look?
"There is a problem with the perception and it is clear that in fact if he does have any influence or is investing in stem cell research, we must keep not only a close eye on that, but pull all facets of his life."
While Mrs Butler-Turner admitted that receiving donations from individuals and corporations is a normal practice for politicians in the Bahamas, she said politicians must be concerned about the picture it paints to the public in each case.
"We as elected officials must always be careful of the gifts we accept. One of the things you will find is that political parties do in fact take donations from many people, many individuals, many corporations but I think that the perception, the perception that we allow or is perceived by people is very important. When Bahamian people feel you have received an exorbitant amount of money from one donor, or one individual, or one corporation, the perception is always what is the payback to the piper? And that is a very real perception and it is unfortunate that when we come here that we would denigrate each other in this fashion," she said.
During her speech, Mrs Butler Turner also revealed the discovery of a second Nygard video she says is even more "shocking than the first Nygard video".
The video called "Larger than Life: Peter Nygard" is a documentary comprised of interviews from former employees who claimed to have been mistreated and mentally abused by the fashion mogul.
Mrs Butler said she supports the stem cell bill, but proper regulations should be put in place.
The debate continues on Monday at 10am.