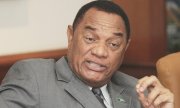 By AVA TURNQUEST

;Tribune Staff Reporter
aturnquest@tribunemedia.net
PRIME Minister Perry Christie will not reveal his opinion on recommendations for gaming and constitutional reform until he has consulted both his government and the opposition.
Mr Christie said the government had already approached the official opposition during its examination of constitutional recommendations in order to determine whether or not there can be unanimity on any of the issues.
"The hotel sector, with specific reference to those that own or manage casinos, have put in a comprehensive proposal for gaming reform in their recommendations," he said. "They have made a request for the government to consider making it possible for permanent residents and people on work permits to game.
"The government has to give consideration to that as part of the overall package, its in the process of doing so now because we know the casinos are anxious to have some movement on parliament addressing the changes that are necessary to make us more competitive as a gaming jurisdiction."
Mr Christie added: "The constitutional commission has given an indication that an amendment to the law can give the result to allow Bahamians to game."
Pointing to the legislative agenda, Mr Christie said he did not expect to address proposals from casino owners and the Constitutional Commission until next month.
He said: "We know for example that both parties in parliament have expressed support for gender equality and the elimination of sex discrimination, so in that area we will probably find unanimity.
"I've indicated an intention to have a referendum by the end of the year sometime in November.
"The question then will be to what extent will we be able to go to the people of the country with issues raised by the commission, or will we be limited by good sense decisions just to a few of the recommendations on the business that there will be additional referenda in the year after."
He added: "We have a legislative agenda that we're battling through and you can see now the Nygard issue seems to have taking precedence over the actual legislation itself, so we have to deal with it. It's always an amusing set of circumstances to me when people suggest that there is some developer who can control a government."