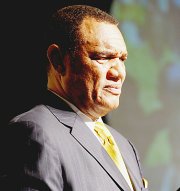 By DANA SMITH
Tribune Staff Reporter
dsmith@tribunemedia.net
IF environmentalists want to go to court over the construction of a jetty in Bimini for the Resorts World Bimini SuperFast, the government will be "ready to take them on," Prime Minister Perry Christie said Saturday.
He was speaking at Resorts World Bimini where he stressed the government's commitment to "steadfastly maintaining" the "pristine environment" of the Bahamas.
Before year end, Resort World developers will complete – at their expense – the construction of a deep-water jetty and terminal for the berthing of the SuperFast, Mr Christie said.
"The developers and the government will ensure that this facility will neither be obtrusive in appearance nor cause damage to the environment, which must be protected at all time," he continued.
"I do know, that in the nature of things in the Bahamas, there will be the rumblings and the beginning of some grouping that says it's concerned about the environment in Bimini. Well I want them to know, just as I will say Monday in Parliament, that as a prime minister, I anticipated them. I will continue to anticipate them.
"And all of our efforts will be to ensure that even if they want to go to court, we will be ready to take them on, wherever they want to go, whatever they want to do, because all of our efforts are driven by a commitment to ensuring we put maximum effort in protecting the environment of these areas that are being developed."
Mr Christie explained the Resorts World developers have been required to pay a "substantial amount of money" for their environmental impact assessment study and the government has brought in its own experts and specialists.
"In this particular instance, a well known international firm from Canada, to do a microscopic examination of what the developer's experts have said should happen and how the development should take place," he said. "So I will be able to say very clearly we are taking steps in the best interests of the Bahamian people."
A petition calling on the government to stop plans for the construction of the dock has gathered 1,798 supporters up to press time, last night.
According to the petition, which was created by an environmental group, the Bimini Blue Coalition, on the website, www.change.org –  the dock could cause "catastrophic" damage to the environment.
"The current proposal being put forth by Genting's newly acquired Resorts World Bimini Bay calls for the creation of a massive cruise ship terminal off the western shore of North Bimini. These plans include a 1,000 ft dock extending west off North Bimini's beaches, the creation of a large man-made island offshore, and an enormous amount of related dredging. All of this is being proposed in an area of densely populated coral reef habitat," the petition says.
"The damage to the surrounding reefs will be catastrophic, and the landscape of Bimini will be forever transformed.
"We are calling on Prime Minister Perry G Christie to halt these proposals and demand that a new plan be developed. Any new proposals put forth must not adversely impact Bimini's reefs or marine ecosystems, must not negatively affect the North Bimini Marine Reserve, must not negatively impact the quality of life or property value of North Bimini's residents and homeowners, and should take into consideration the ideas and concerns of Bimini's residents, stakeholders, and homeowners."