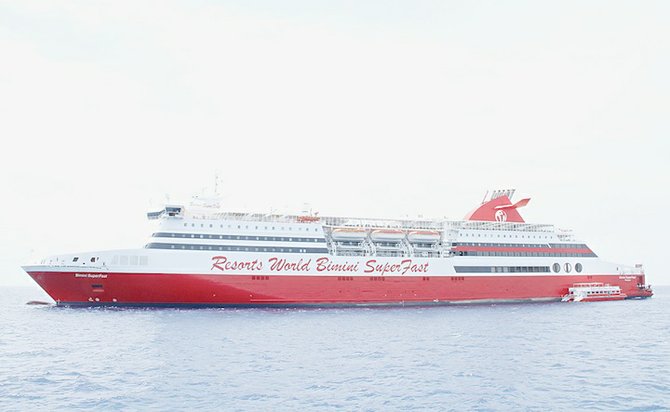 By DANA SMITH
Tribune Staff 
Reporter
dsmith@
tribunemedia.net
AFTER safety setbacks kept the Resorts World Bimini SuperFast in the port of Miami for two weeks, the vessel was cleared to take 500 guests to Bimini for its inaugural trip Saturday morning.
Guests on board the 10-storey ship enjoyed several restaurants, bars, and a casino, while on a two-and-a-half hour journey to the Bahamas, which is to continue daily until it is increased to twice daily in August.
The ship can hold up to 1,600 guests, with prices starting at $49 per person, round trip, with added costs if guests want to stay in one of the ship's 244 cabins. The goal, according to Resorts World officials, is to turn Bimini into a year-round destination for tourists.
Government officials here share the same goal and expect the Bimini SuperFast and Resorts World Bimini casino to contribute hundreds of millions of dollars to the island, over the coming years.
However, the ship's first journey on Saturday was not trouble-free as delays reportedly associated with customs and immigration allowed guests little more than 30 minutes to explore Bimini before the return trip to Miami.
Also contributing to the short 30 minutes, a lack of a suitable jetty for the SuperFast forced guests to board smaller ferries to be shuttled to Bimini.
Genting Americas President, Colin Au, noted this lack contributed to the long process of taking guests from the ship to Bimini. He also suggested this lack of a jetty, in conjunction with rough weather, will inhibit plans for the ship to operate year-round.
"There is something we cannot do that is of course with nature," he said. "We really, dearly love to build a jetty here. As you can see today, we were coming on tenders - that obviously takes a long time - and, by October, nature will turn against us; being winter, the waves will be 3 to 9 feet and obviously we can't arrive on this beautiful island."
However, addressing the press inside Resort World Bimini's Sabor Restaurant, Mr Au noted Resorts World is "prepared to do more."
He said: "We really appreciate being welcomed here. There will be a lot of benefits for Biminites... We are in the process of getting a private jet that will bring people all the way from Mexico City and New York City directly into Bimini. And, we're going to start sea plane services – every hour on the hour – from Miami to this beautiful island and also at night.
"And, of course, we hope also, given the permission to build a jetty, that we can do year-round (SuperFast trips) and we can then intend to build maybe a few hundred rooms and continue to improve the tourism infrastructure."
Over the next 12 to 16 months, Mr Au said, Resorts World will do "a lot" to improve the economy in Bimini.
Tourism Minister Obie Wilchcombe was on board the Bimini SuperFast for the inaugural trip and spoke to The Tribune about the importance of such an initiative for Bimini's economy.
"This is a giant step towards economic sustainability that we're hoping to achieve for all the islands of the Bahamas," he said.
"Genting is a major corporation... all of its plans for the future will allow us to cause for the sustained growth of tourism on a daily basis – if we're able to ensure 1,000 people or 500 people are arriving here and are able to contribute to the economy."
Taking into consideration the number of guests expected to arrive in Bimini and the anticipation of local entrepreneurship and a boom in local businesses, the Bimini MP said: "We believe it's going to contribute almost $400 million to this island, over a period of time – that's the focus. It's going to be tremendous because of the growth you're going to see over the next several years and we're hoping within a ten-year period, it reaches that high mark."