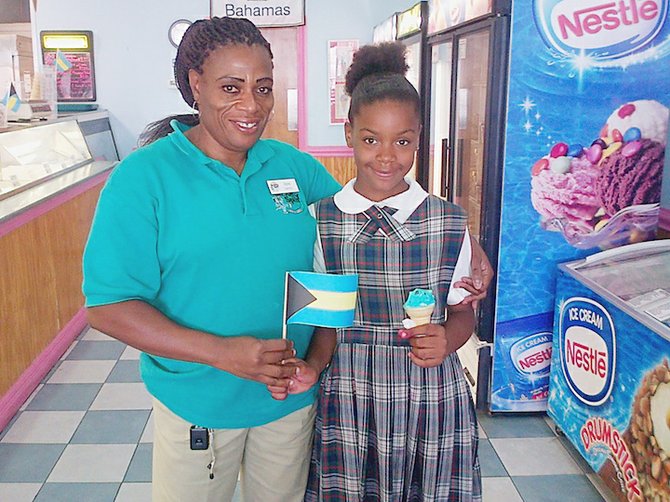 AS THE nation continues to celebrate 40 years of independence, Lickety Split is doing its part to inspire national pride.
Children across the island were challenged to recite the country's Pledge of Allegiance at Lickety Split for a taste of Bahama Pride – Lickety Split's Independence inspired ice cream flavour.
Bahama Pride features dark chocolate chips embedded in swirls of aqua and yellow ice cream. Lickety Split unveiled this original ice cream flavour to the public during last year's independence celebrations.
Lickety Split managing director, Llewellyn Burrows, worked closely with staff to ensure that all locations were decorated to reflect the independence theme and the chain of ice cream parlours actively participated in the country's 40 day countdown to independence.
Hundreds of children, ages 10 and under, attempted to recite the pledge at Lickety Split locations. Those who completed the task received a scoop of Bahama Pride Ice Cream for just 50 cents, along with a Bahamian flag.
Mr Burrows noted that a greater number were familiar with the nation's Pledge of Allegiance this year.
For those who had difficulty, Lickety Spilt staff provided printed copies of the pledge and encouraged children to return and try again.
Lickety Split was thrilled with the success of the Bahama Pride launch last year and made this year's campaign bigger and better, incorporating Bahamian Trivia on local radio stations and a grand prize drawing for all children who participated.
Five-year-old Nicholas Strachan was the winner, receiving a three gallon tub of Bahama Pride Ice Cream to share with friends and family.
All locations will feature this popular flavour for the next few months so Lickety Split customers can continue to experience Bahama Pride.