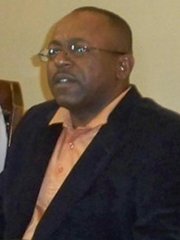 FORMER MP Keod Smith was charged with assault and damage yesterday, The Tribune understands.
Mr Smith was called in to the Cable Beach police station in connection with an argument between the former Mount Moriah MP and human rights lawyer Fred Smith at Jaws Beach in April.
According to sources close to the matter, Mr Smith is one of several people who is expected to be charged in the magistrate's court on Wednesday in connection with the incident .
In a sworn affidavit, Mario Joffer claimed that Mr Smith struck him with his car while at Jaws Beach on April 26.
Yesterday, Cable Beach police officers would not confirm or deny that charges had been filed against lawyer Keod Smith.
The Tribune understands that the former MP was released on police bail.