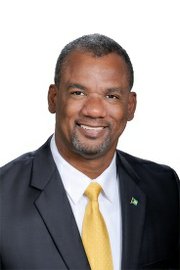 By KHRISNA VIRGIL
Tribune Staff Reporter
kvirgil@tribunemedia.net
CONTRACTORS have been selected to carryout around $3.2 million in repairs to the Our Lady's and St Bede's Schools, which are expected to be converted into facilities for disabled students, Education Minister Jerome Fitzgerald announced.
Speaking to the reporters yesterday, Mr Fitzgerald said that work on both the buildings will begin soon.
He said: "We have gone through the bidding process and they have gone to the tenders board. We have approval and I am waiting now to get approval from Cabinet and move ahead. The contract amount for Our Lady's is around $1.3 million and St Bede's was about $1.9 million. So we expect those to commence very soon."
The minister did not say if either of the schools would be completed for the new school year in September.
The government acquired the schools shortly after it was announced that the Catholic Archdiocease could no longer keep either of them in operation.
Mr Fitzgerald last November announced that the government intended to enhance special education in the country by using both buildings to accommodate around 100 students.
He estimated at the time that the renovations would only cost the government around $1 million.
Last April, Mr Fitzgerald pledged to do all he could to make them compatible with the special needs of disabled students.
"(The) renovations (will) ensure that it is compatible to special needs children. It is extremely important and a critical advancement on behalf of the Bahamas. We anticipate that it will be the envy of this region and (we) will use it to catapult us even further as we understand the special needs and challenges that we have in this country."
Officials at the Archdiocese have assured parents that children from the affected schools would have a place in one of the remaining Catholic institutions.
Parents will also be allowed, for one year, to pay the same tuition rate they paid at the former schools.