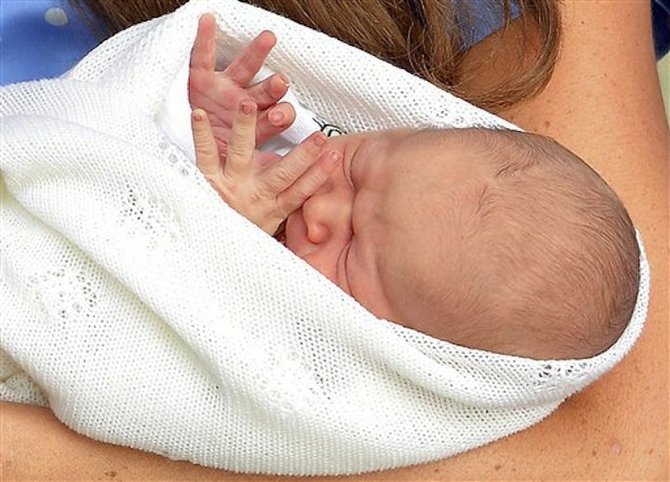 PRINCE William and his wife Kate's first child has a name: George Alexander Louis.
The announcement today that William and his wife had selected a moniker steeped in British history came as royal officials suggested the new parents are seeking quiet time away from the flashbulbs and frenzy that accompanied the birth of their first child.
While the news put to rest intense curiosity over what name the couple would choose, the timing and interest around it show how the 2-day-old future heir is already on his way to a lifetime of fanfare and public glare.
Kensington Palace said William and Kate were "delighted to announce" their son's name, adding that baby will be known as "His Royal Highness Prince George of Cambridge."
The name George — borne by six previous kings — befits the boy now third in line to the British throne and was a favorite among British bookmakers. It was the name chosen for his reign by Queen Elizabeth II's father, George VI, who rallied the nation during World War II.
Alexander is a name shared by three medieval Scottish kings, and the name Louis could be a tribute to Lord Louis Mountbatten, uncle to the queen's husband, Philip, and the last British Viceroy of India before that nation gained its independence in 1947. William's father, Prince Charles, was close to Mountbatten, who was assassinated by the Irish Republican Army in 1979.
After leaving the hospital, the couple introduced their son to his uncle, Prince Harry, and to great-grandmother Queen Elizabeth II, who was keen to see the baby before she starts her annual summer vacation in Scotland later this week. Then they headed to see Kate's parents in their village near London.
While Kate and William get to know little George away from the media frenzy that surrounded his birth, there is one royal appearance on the horizon: the new parents are expected to soon choose a photographer for the baby's first official portrait.