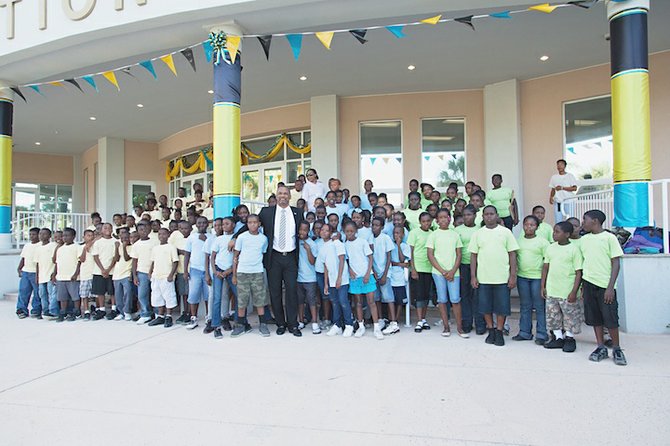 FOCUS, the Lyford Cay Foundation's tuition-free, school enrichment programme that sets primary school students on an eight-year path to college and career success, held its third annual "Summer Slam" Open House at The College of The Bahamas.
Sponsors, members of the students' families and all interested persons were treated to the group's All-School Rally on the steps of the Harry C Moore Library and given a tour of the classrooms as the children participated in their lessons.
Among the invited guests at the event was Jerome Fitzgerald, Minister of Education, who lauded the programme and encouraged its 120 young participants to keep studying hard and doing their best.
"In my year as Minister, FOCUS is the most impactful programme going on in the country," he said.
"Believe in yourself that you are going to college. You can do and be whatever you want to in life."
Mr Fitzgerald urged the family members in attendance to continue to support the children with positive thoughts, and thanked all involved for "the contributions being made to our national development".
The visitors were also treated to a panel discussion with FOCUS students moderated by Programme Director Felicity Humblestone.
When asked what the best part of FOCUS was, Samantha, a seventh grader with plans of becoming a teacher, said, "Everything!"
Ishmael, a seventh grader entering HO Nash Junior High in the fall, intends to be a doctor when he grows up, and said that FOCUS will help him finish college and become a "master surgeon".
For his part, sixth grader Ja'tao told the audience that he aims to be a pilot and a basketball player. He credits FOCUS with helping him be a better role model and friend. This summer's curriculum at FOCUS revolves around the theme of The Bahamas' 40th Anniversary of Independence.
The fifth and sixth graders are constructing a 3D model of the city of Nassau as they imagine it looking 40 years from now, and the seventh graders are making a documentary on the history of the nation's capital over the past four decades.
The students will be showcasing their projects at the conclusion of the summer semester, in August.
FOCUS provides its participants with 45 additional days of formal instruction each year, as well as everything they need to participate in its activities - including uniform T-shirts, meals, transportation and study materials.