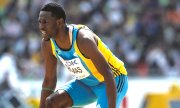 By BRENT STUBBS
Senior Sports Reporter
bstubbs@tribunemedia.net
Former world champion Donald Thomas is back in tip-top shape.
The Grand Bahamian native, who rose to prominence at the 2007 IAAF World Championships in Osaka, Japan, booked another trip to the biggest global meet on the planet when he soared a season's best of 2.31 metres or 7-feet, 7-inches to win at a last chance meet in Tallahassee, Florida, on July 13.
The performance came just in the nick of time for the 29-year-old former basketball player as he matched the A qualifying standard to secure his berth on the Bahamas team that will compete at the World Championships August 10-17.
Thomas was referring to his sub-par performance earlier in the year as he recuperated from a series of injuries, including one on his back going into the Bahamas Association of Athletic Associations' National Open Championships in Grand Bahama last month.
"I was ready to jump, but that didn't go as planned," said Thomas, who got the wrong starting time for the event and ended up competing on his own.
"I'm healthy, so I just want to show up at the World Championship because the high jump is an event where the best man on the day wins, so I'm just trying to prepare myself to do the best that I could do."
Thomas, who has one of the top 10 best jumps in the world this year, will be competing in the worlds with former junior champion Ryan Ingraham, who cleared the B standard of 2.28 (5-5 3/4) with a personal best of 2.30 (7-6 1/2) at a meet he won in Edmonton, Canada. on June 29.
Barry, the reigning bronze medallist in the last worlds in 2009 in Berlin, Germany, and who competed with Thomas at the 2012 Olympic Games in London, England, had a SB's of 2.24m (7-4 1/4) in Shanghai on May 18 before he closed out his season with an injury.
Another Bahamian, Jamal Wilson, also made some strides this year to qualify but he fell short with his best mark of 2.28 (7-5 3/4) at the Chris Brown Bahamas Invitational on April 13.
Thomas almost suffered the same feat as Wilson as he needed to hit the A standard to ensure that his spot was secure.
"Based on the training that I had leading up to nationals, I know I was in good shape," Thomas said. "My last competition before nationals was in Beijing, China, where I jumped in May. After that, we decided to just train and try to get me back in order and so I could be prepared for later on this year. We basically took a month off to focus on getting healthy and stronger and it paid off. I went to nationals and jumped by myself in an empty stadium. I came in at 2.24 and went to 2.28 and tried 2.31. I was confident I would get it. I just needed the opportunity.'
The "we" Thomas was referring to is his new coach American Dan Pfaff, whom he has been working out with in Arizona since he left the Auburn Elite connection, headed by Bahamian coach Henry Rolle.
Having accomplished his mission, Thomas said he can now gear up for the big challenge ahead of him in Moscow.
"The sky is the limit. I just want to go out there and just jump to the best of my ability," he said. "If I can do that, it should be good enough. My first objective is to get into the final and then I will take it from there."
Thomas, however, knows it won't be easy to medal based on the performances that a lot of jumpers ahead of him have produced so far this year.
"I commend the other guys for what they have done by stepping their game up. The high jump is at the highest level that it has been in quite some time, but I'm not too concerned," Thomas said.
"They were jumping in some good environment with the crowd behind them.
"But on a level playing field, I'm not worried because I just have to focus on me and do what I have to do. They have to do it with me in the field and I know they won't be beating me bad," he said.
If anything, Thomas said he intends to take the competition to his rivals.