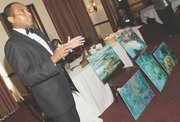 By KHRISNA VIRGIL
Tribune Staff Reporter
kvirgil@tribunemedia.net
A REPRESENTATIVE of Save the Bays – a group of conservationists concerned with the Bahamas' natural habitat – is urging the government to implement an environmental protection act.
Speaking at the Rotary Club of Nassau's weekly meeting, Romauld Ferreira said the group was in large part concerned with unregulated developments which in his opinion are out of control.
Mr Ferreira believes that the level of ongoing activities in the country that harm the environment can no longer be ignored specifically oil slicks which seem to have plagued waters at Clifton Bay and ongoing work at Nygard Cay.
All Bahamians are being asked to support calls for environmental regulations by signing a petition at www.savethebays.bs.
"One of the things that we are calling for," Mr Ferreira said, "is an environmental protection act which will change the whole way we as citizens interact with our government for meaningful conservation strategies and laws.
"Issues at Clifton Bay are so egregious and outrageous that we have to bring them to light. We can't ignore them any longer.
"All of these issues came to a head with unregulated development happening at Clifton Bay. Unregulated development is really the number one cause for concern when it comes to the environment because we have to be concerned abut the carbon footprint that we leave years from now.
"We have the development that is going on at Nygard Cay which had an original boundary of 3.25 acres if you look now, the new boundary is some 2.85 acres as a result of land reclamation. Sand was pumped and we are talking about damage to sea grass meadows. This was dredged up resulting in 6,000 square metres of sea grass bed being damaged or destroyed. This is what unregulated development is doing," he told Rotarians.