By AVA TURNQUEST
Tribune Staff Reporter
aturnquest@tribunemedia.net
OVERCROWDING will not be a problem for inner-city public schools as the government moves to close Mabel Walker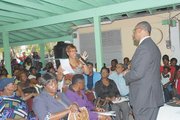 Primary School at the end of this school year, Minister of Education Jerome Fitzgerald said yesterday.
The school site will be the new home of a Professional Development Institute for teachers, according to Mr Fitzgerald, who met with angry and concerned parents to address concerns over displaced students and teachers at a PTA meeting on Monday.
Mr Fitzgerald said: "We explained to them the reasons behind the closure, and the fact that we were going to transform the school into an in-house teacher training institute for the upgrade of our teachers. All of them agreed that was something we needed in the system, of course they didn't like the fact that Mabel Walker was chosen as the school."
He said: "It's a hard decision that I had to make as minister but in the long term interest of our education system, it really was a decision that had to be made at this point if we want to improve the level of our teachers."
Pointing out that students will be allowed to choose from neighbouring schools in the area, Mr Fitzgerald said he told parents that their children's transition would be determined by their own initiative.
He said: "[Parents] accepted that the kids that are doing well will continue to do well. We have excellent teachers within the public school system and so we have no doubt that they will all do well."
Speaking outside cabinet yesterday, Mr Fitzgerald explained that enrolment at inner-city public schools has been on the decline for several years as a result of residential trends.
"There has been a major pull to the southwest and east corridors so we have over population in schools in the southeastern corridor, but schools in the inner-city, year after year, we've seen the numbers diminish.
"So we have the space, we don't have an issue in New Providence with regard to accommodating students, our issue is accommodating them in the areas where they reside in the southeast and southwest corridors. In the inner part of New Providence we have space available in just about all of our primary and secondary schools."
Responding to recent claims by teacher's union president Belinda Wilson that displaced teachers are allowed to choose the school they are transferred to, Mr Fitzgerald maintained that the Department of Education makes the final decision.
He said: "We will do what we can to facilitate them but at the end of the day we have to make sure that we allocate teachers where and when their expertise or skills are needed.
"We have a plan and we'll discuss with the Bahamas Union of Teachers as we move forward."