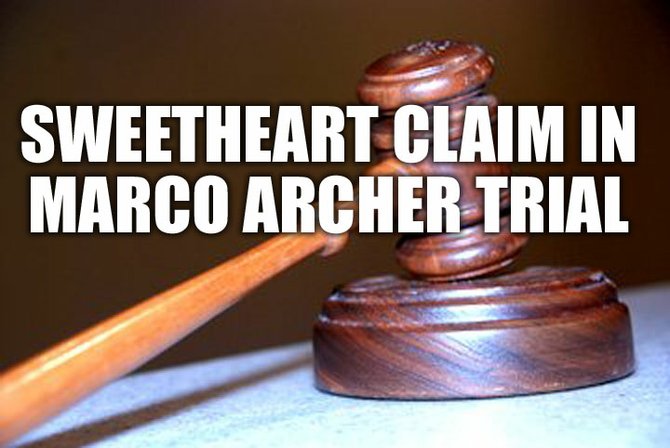 By LAMECH JOHNSON
Tribune Staff Reporter
ljohnson@tribunemedia.net
A JUDGE being "incompetent" and an investigator "sweethearting" with a woman residing at Yorkshire Drive were some of the suggestions the jury heard on the 33rd day of the Marco Archer murder trial yesterday.
Justice Bernard Turner ordered Kofhe Goodman's attorney, Geoffrey Farquharson, to withdraw his "incompetent" statement made after the judge ruled that a question put to Detective Constable Gray, was considered hearsay evidence.
"I withdraw it unreservedly," Mr Farquharson answered.
Mr Farquharson's client, Kofhe Goodman of Yorkshire Drive, faces a murder charge which he denies. It is claimed that between September 23 and 28 of 2011, he caused the death of 11-year-old Marco Archer, who disappeared from Brougham Street and was found dead days later.
Garvin Gaskin, Deputy Director of Public Prosecutions, with Neil Braithwaite and Darell Taylor, are prosecuting the case.
In yesterday's proceedings, Constable Gray took the witness stand again to continue being cross-examined by the defence.
In his initial testimony on Tuesday, the policeman said that he received items and forms requesting analysis on October 3, 2011 at the Royal Bahamas Police Force's forensic lab stationed at Police Headquarters.
He received the items and put them in secure storage until they were examined by analysts, he said.
During cross-examination, the officer said he could not recall receiving items from Constable Denrea Johnson.
The lab officer agreed that it is possible for items, or the lab itself, to be contaminated if persons entering do not follow the safety protocols.
Mr Farquharson, yesterday, sought to put a particular question to the witness concerning a blood sample. However, upon hearing the question put to the witness, Justice Turner said he would not permit it on the basis that it would be eliciting hearsay.
The attorney disagreed and said the question was relevant to his client's defence.
Mr Farquharson, who on multiple occasions took offence to not being able to defend his client because of the interjection by the court and prosecution, contended that his question concerning collected exhibits would not be hearsay and suggested to the judge that he also knew it was not the case.
It was then that Mr Farquharson suggested that Justice Turner was either not competent enough to be presiding over the matter or was pretending not to recognise that his question would not be eliciting hearsay; and was then assisting the prosecution in the case.
Mr Farquharson went on to say that he was in the process of making an application "to have you removed."
In response, Justice Turner said the court would interject when the issue of relevance arose and that he did not wish to hear about what he intended to do.
"If you're making an application, you will make it," the judge added, before ordering Mr Farquharson to withdraw his previous statements suggesting his incompetence and alleged collusion with the prosecution.
"I withdraw it unreservedly," Mr Farquharson answered, though he then asked the court to "please cease to assist the prosecution."
Justice Turner maintained that the question was hearsay and not a part of the evidence, but the attorney responded that it was his defence.
"Mr Farquharson, no," the judge emphasised before telling the attorney to move on with questioning, if he had any left for the witness.
Gray's cross-examination lasted a few short minutes before a recess occurred and the jury was excused from court.
Private discussions occurred in the jury's absence. However, it cannot be reported or published as it would be contempt of court.
Following the break, ASP Christopher Wright was recalled to the witness stand for continued cross-examination.
He previously testified to arresting a resistant, Goodman, at Yorkshire Street on September 27, 2011 at the pink apartment complex and had the white Nissan Maxima Goodman was driving towed to the Cable Beach police station.
In the continued cross-examination, Mr Farquharson asked the senior officer if he had searched the vehicle at the Yorkshire residence.
"Yes, sir," the officer answered.
Mr Farquharson suggested to the officer that he searched the condominium as well while accompanied by two policemen.
"I never searched any condo unit," ASP Wright said.
"Who searched the homes?" the attorney asked. ASP Wright said "I don't know." He added that he did not authorise a search.
When asked, he admitted to knowing that his friend and colleague, ASP Ricardo Taylor, had also resided at that unit for a number of years.
Mr Farquharson then suggested to the ASP that he would've also seen the case's investigator, ASP B K Bonaby visiting someone in those units during the time he visited his colleague.
"I have no recollection of that," the senior office replied.
Mr Farquharson then suggested that he knew ASP Bonaby had a sweetheart that resided at those units.
"Your suggestion is totally wrong. I have no knowledge of ASP B K Bonaby with a sweetheart," Wright said, adding that "I never saw him there."
Mr Farquharson then suggested that his presence there was on instructions of ASP Bonaby. ASP Wright answered: "Wrong."
When the attorney asked ASP Wright how he came to be involved in the case in question, Mr Gaskin objected.
Mr Farquharson amended his inquiry: "So, Mr Taylor call you?"
"I never said he did," the witness answered.
"I suggest when you got there, you met an altercation between him (Goodman) and Ricardo Taylor." the lawyer said.
"I met no altercation going on," ASP Wright said, also denying that Taylor came outside to speak with him.
Mr Farquharson suggested to the ASP that the accused had objected to Taylor speaking to his mother in an offensive manner. However, Wright said this never happened and that Taylor was only telling the mother to calm down and let police do their job.
Mr Farquharson then asked ASP Wright if he was bitten on the arm at that time.
"Yes I was...I was bitten on my arm by Ms Taylor who was acting disorderly," the officer answered.
"In an altercation that didn't take place?" Mr Farquharson asked. ASP Wright said that the confrontation at the apartment involved the accused, his mother and the police.
When asked if any other persons were arrested that night, Mr Wright said four persons were arrested, including Goodman.
"What happened to them afterwards?" the lawyer asked.
"I assumed they were exonerated from the investigation," the witness answered.
When asked what his client was arrested for, ASP Wright replied: "He was arrested for questioning with respect to a number of sexual assaults, for young boys.
"And all of the persons who were arrested with him were arrested for the same thing?" Mr Farquharson asked.
"Not necessarily," the witness said, adding that there were a number of matters the four were arrested in connection with.
The trial resumes today.