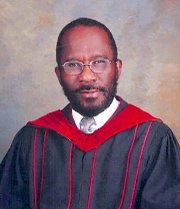 OUR series reporting on Mount Tabor Full Gospel Baptist Church's 'Fabulous Forty,' fathers, highlighting fatherhood in The Bahamas, continues with Dr Hervis Bain.
THE Reverend Doctor Hervis L Bain Jr MBE JP graduated from St John's College in 1960.
Dr Bain furthered his studies at the Nova Scotia College of Art and Design University, Harvard University and the University of Miami where he completed his Master's Degree in Business Administration with distinction.
Dr Bain's employment mirrored his education beginning with Art Master of The Government High School, Art Education Officer at the Ministry of Education, Chief Personnel Officer at The Bahamas Electricity Corporation, General Manager of The Bahamas Agriculture and Industrial Corporation, and finally, President of Swarovski (Bahamas) Ltd.
Dr Bain has contributed to the development of things Bahamian as the designer of both the National Coat of Arms and the National Flag of the Commonwealth of the Bahamas. As a community artist, he has designed insignias for the vessels of the Royal Bahamas Defence Force, in addition to producing many paintings that have been displayed both privately and publicly within the Caribbean and Canada.

He has also published several books, manuscripts and articles. Dr Bain has been honoured by Her Majesty, Queen Elizabeth II as a member of the Most Excellent Order of the British Empire, and is a recipient of the Commonwealth of the Bahamas Silver Jubilee Award for Public Service, the Horace N Wright Award of Excellence for Art Design and Education, the Sir Lynden Pindling Foundation Award for Excellence, and has been inducted to the National Junkanoo Legends Circle for the advancement and development of Junkanoo.
Dr Bain and his family represent more than four generations of the Native Baptists worshippers in the St John's Native Baptist Cathedral. He is married to the former Beverly Blair and they are the parents of Hervisa, Rev Hervis III (Anita) and Heather.