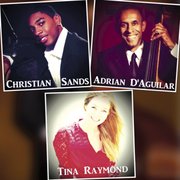 By FARAH

Tribune Features Writer
jgibson@tribunemedia.net
JAZZ MUSIC will take centre stage during Bahamian singer Anuschka Wright's first concert. The Jazz In Bloom event will take place June 16 at the British Colonial Hilton.

The Father's Day show will bring together musically savvy artists such Adrian D'Aguilar, on bass, Tina Raymond from Los Angeles on drums, and Christian Sands from New York on keyboard. There will also be special performances by vocalists Osano Neely, Josh Lynes and Ralph Munnings on the saxophone. The concert begins at 7pm.

Funds raised from the concert will assist Anuschka with her territory education in music.
"I will be heading off to university this fall to study music and we all know the costs that are involved with education. So that was the initial catalyst to my organising the concert. However, the whole idea has really grown since then though. With the website, other Jazz In Bloom events are in the making and all kinds of talented people are coming on board to give support. Part of the proceeds will also go to help other charitable organisations. It is really great to see how an idea can spiral into something amazing; taking on a life of its own. Now Jazz In Bloom is truly more than a concert," she told In Ya Ear.

Anuschka has been singing since she was a child, in school and church choirs and as a member of the Bahamas National Children's Choir. Despite being a versatile performer she fell in love with jazz music and hopes to develop her skill in the area.
"I am a full time musician in the Bahamas so having a bit of versatility goes a long way in helping get consistent work. So I sing, everything from pop to reggae. I enjoy performing as well. I love jazz because I feel that Jazz music, in and of itself, is one of the best examples of life and how life should be lived to the fullest. That aspect of it helped to inspire the name behind the concert, Jazz In Bloom," said Anuschka.
"Jazz is a music that requires people. Like base ball is a game of individuals, Jazz is a music of individual masters. The expression of the music relies on every person having done their own personal work. It relies on everyone bringing their A-game, their concentration and focus. When the music hits, Jazz demands your attention, or you just won't have that magic being created. So really I guess the process to the expression of Jazz is what I love most about the music. Everyone's experiences intertwine to create magic," she said.
"Life inspires me really. I genuinely love music. I love Jazz, and I love what I am doing. So all of that adds up to my inspiration. Love and life." 
Anuschka is planning several other Jazz events. And while her immediate plans involve studying music formerly, she hopes to also develop the Jazz community locally with the activities.
"I plan to take every opportunity that may arise to gain more experience in Jazz and music at large. I intend to continue to share my talent in the Bahamas and abroad. I am very excited for the future and to see it being filled with lots and lots of music," she said.