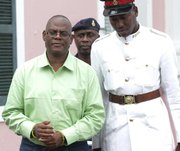 By LAMECH JOHNSON
Tribune Staff Reporter
ljohnson@tribunemedia.net
BEFORE sentencing Prince Hepburn to 57 years in jail for hacking to death Nellie Mae Brown-Cox, a judge told him that in the circumstances of his case, he could have walked away from that relationship as he had walked away from his wife and children.
Justice Indra Charles, having considered a probation report concerning Hepburn, testimony from a relative of Brown-Cox about the impact the incident had had on her and the family, and a psychiatrist's evidence concerning his interview with Hepburn, said she was not of the view that Hepburn had expressed remorse for what occurred on April 6-7, 2011.
Hepburn was convicted in March of the murder of Brown-Cox, the 42-year-old former president of the Bahamas Heart Association. They were involved in an extramarital affair and both tried to divorce their spouses to be together.
Brown-Cox was found dead in the kitchen of an apartment on Bougainvillea Blvd, South Beach, with multiple stab wounds.
Hepburn, her partner at the time, was charged with her death six days later when he was arraigned in the Magistrate's Court.
Hepburn denied the murder charge and through his lawyer Murrio Ducille, maintained that he could not accept responsibility for murder because he was not in the right frame of mind as testified by Dr Michael Neville, a psychiatrist of more than 30 years experience.
It was explained by Dr Neville during the trial and again at yesterday's sentencing that at the time, because of depression, Hepburn was suffering from "diminished responsibility." Dr Neville's opinion was challenged by Deputy Director of Public Prosecution Franklyn Williams that Hepburn's actions in the lead up to the incident were premeditated considering that he bought a cutlass, had it sharpened and had inscriptions written on it.
Dr Neville told the prosecutor that it was his opinion that depression was a severe illness common in the Bahamas and he wished society would be more aware of it.
However, Justice Charles in handing down her sentence, noted that Hepburn, "in my opinion, was obsessed with the deceased."
"The premeditation is clear," the judge said.
"To purchase a cutlass and he had time to inscribe words on the cutlass, there is no doubt that there was premeditation in this based on the evidence," the judge added, rejecting the psychiatrist's view that Hepburn had suffered a mental illness.
However, she did accept Dr Neville's point that Hepburn was a risk to himself and added that he would also be a danger to society.
Referring to the probation report, the judge noted that Hepburn felt justified in his actions because of the $1 million he had invested into their relationship.
"I have come to the conclusion he has expressed no remorse for his actions," the judge noted.
Justice Charles said that Hepburn's clean record prior to conviction was the only mitigating factor in this case.
"Mr Hepburn could've walked away from the relationship just as he walked away from his wife and children," the judge said before sentencing Hepburn to 60 years at Her Majesty's prison.
However, the sentence was reduce to 57 years after the judge took into consideration the time Hepburn had spent on remand in Her Majesty's Prison.
A stoic Hepburn, who upon conviction in March had instructed his attorney to appeal, was escorted from court, a few steps behind the family of Nellie Brown-Cox.
The victim's sister, Clemenita Brown, spoke with The Tribune following the sentencing about how the family felt about the ruling.
She said the court's 57-year sentence for the 51-year-old contractor would not "bring my sister back here."
"We're not trying to do an eye for an eye; or tooth for a tooth. We have already forgiven, but that's fine with us. Now my sister can rest in peace and we can look at making life better, getting to another place and moving on with our lives."
"So we're happy with the sentence," she said.