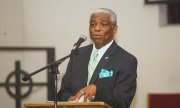 By SANCHESKA BROWN
Tribune Staff Reporter
sbrown@tribunemedia.net
NATIONAL Security Minister Dr Bernard Nottage said yesterday the government is "concerned" about the effectiveness of the ankle bracelet monitoring system and greater restrictions need to be placed on offenders.
Dr Nottage also hinted that the police force may take over the monitoring of the ankle bracelet system which is currently under the control of ICS concepts.
However, he said, the contract is set to be reviewed and updated this year.
"People who are given ankle bracelets are given it presuming because they (judges) feel that they need to be monitored. If you are going to monitor them it has to do with whether there is any concern that they may commit further crimes while they are on bail. If that is the case it seems to me that in order to be effective they should do what is often done with people who are given bail, they are often asked to report to a police station once a week or something so that they can be more closely monitored," he said.
"But people with the bracelets, so far as I am aware, are not given any  restrictions. So, for example, what I would like to see is a situation where they are restricted in terms of their movements, times of the day and where they can and cannot go. For example, if someone with an ankle bracelet lives, say on Wilson Street, and the people monitoring them find they are in Lyford Cay at 2am, they don't live there so the question is what are they doing there."
Dr Nottage said he would "like to see police" doing the monitoring rather than a private security firm.
"The police have concerns," he said. "It is not the question of the technical capacity of the ankle bracelets, but it is how they are being monitored. "Firstly, whether they can be tampered with and apparently they can be successfully tampered with and secondly whether there should be some conditions placed on those people who are wearing the bracelets in terms of geographical restrictions and time restrictions and I would like to see policemen doing the active monitoring, rather than technicians of a security company."
Police Commissioner Ellison Greenslade recently expressed concern over the number of people being arrested for committing crimes while on bail.
In the latest incident, the 27-year-old man accused of robbing an American diplomat was being electronically monitored at the time of the Sunday morning attack.