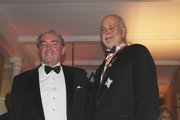 BAHAMIAN Rotarian Barry Rassin has been recognised by The Order Of Malta with the award of the Grand Cross for his humanitarian work, both at home in the Bahamas and abroad.
The award, which was made during the 50th anniversary celebrations of the Rotary Club of East Nassau, is the highest that can be bestowed upon an individual and is given in recognition of outstanding charitable works in line with the goals which The Order of Malta has held for more than 900 years.
The Order was founded in the 11th century to help the poor and the sick. From humble beginnings in a hospital in Jerusalem it has since grown to become a worldwide organisation consisting of some 12,000 members and over 100,000 volunteers, young and old, dedicated to the promotion of the Christian virtues of charitable works for the sick, the needy and refugees without distinction of religion or race.
It is one of the world's oldest religious orders, the core of which has always been its Knights in religious vows. It is also the world's oldest continuously existing order of chivalry and is a sovereign entity with its own small legal and court system.
In 1920, the Grand Cross, or Order Pro Merito, was established to recognise distinguished individuals for their charitable works.
Mr Rassin, who joined the Rotary Club of East Nassau in 1980 and served as club president in 1987-88, District Governor in 1991-92 and as a director of Rotary International from 2006-2008 received the award for his years dedicated to the Rotary motto of Service Above Self.
In making the presentation, Frank Crothers, the Sovereign Order of Malta's ambassador to the Commonwealth of the Bahamas, drew special attention to Rotary's work in the aftermath of the 2010 earthquake in Haiti and Mr Rassin's role in those ongoing efforts when, "on Tuesday, January 12, 2010 at 4.57pm a devastating earthquake registering 7.0 on the Richter Scale ravaged Haiti at the centre of its population, Port au Prince, and surrounding areas resulting in an estimated 316,000 deaths, 1.2 million people being made homeless and 400,000 children being orphaned.
"Rotarians stepped up within hours to assist. Co-ordinated by Past Governor Richard McCombe, 169 flights were sent in with supplies as designated by Dr Claude Surena, Rotary's chair of disaster relief in Haiti.
Further containers of supplies worth many, many millions of dollars, all collected by Rotarians, were shipped in the weeks following the earthquake."
To date there have been 82 projects undertaken by Rotary in Haiti since the earthquake, many of them still ongoing and all of which have been managed by Mr Rassin.
These include a generator for a super kitchen to feed 4,000 people per day; a $250,000 cholera prevention project; a Jaipur Limb project to provide artificial limbs for amputees; water and sanitation projects, including the building of a 200,000 gallon reservoir and 106 toilets; a midwife training project; the building of 40 schools and provision of supplies to a further 22 schools resulting in 29,526 children being able to resume studies; the building of three bridges to help communities access civilization; and a microcredit programme to boost the local economy.
Donations totalling $2.2 million have been received from thousands of Rotarians and Rotary Clubs from 60 countries around the world.
Under the management of Mr Rassin, these funds were used as leverage to gain additional funding from other Rotary districts and non-Rotary organisations, including the Order of Malta, resulting in a total of $6.5 million being raised to aid the rebuilding of Haiti.
In addition to this, the Rotary International Foundation has provided a total of 49 matching grants with a value of $1,489,494.
Mr Crothers emphasised that, due to the way in which Rotary operates, "not a single dollar of these funds has gone to administrative costs".
The latest project starting this year, which is still in need of further funding, will be to completely rebuild an orphanage in Tapio that lost everything during the earthquake. This project, which was started with seed money from The Order of Malta, will cost approximately $382,000.
In concluding the presentation, Frank Crothers said: "The work done by the Rotary Clubs of the Bahamas and Rotary International through the direction of Mr Barry Rassin has been noted and reviewed by the Sovereign Military Council of The Order of Malta and, on behalf of His Highness The Prince and Grand Master Fra Matthew Festing and the Sovereign Council, I am honoured to bestow upon Mr Rassin the Grand Cross of The Order of Malta and its accompanying star for his tireless work to serve his fellow man."