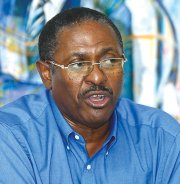 PLP chairman Bradley Roberts said he would not have been able to "turn the other cheek" if FNM Deputy Leader Loretta Butler-Turner had struck him on the face – promising that the event could have turned into a "nasty scene".
While not wanting to second guess why Dr Andre Rollins decided to follow Mrs Butler-Turner and apologise for his part in the incident, Mr Roberts said the PLP MP for Fort Charlotte should be commended for maintaining his composure.
"In the midst of all the high level of crime that we have, and the attitude of a minority of our young people, that is not a good message to send to them. That is a terrible message from a deputy leader of a party," he said.
"When you think that Andre is a young man to her, what kind of message are you sending? She is in her 50s and that young man is in his early 30s."
Mr Roberts said he would not go as far as saying Mrs Butler-Turner's actions hurt Bahamian women's efforts to get economic and sexual equality, but claimed the "stunt" did hurt her public image.
"I don't know what was in her head, but I can say I have watched her demeanour in the House of Assembly, her ranting and raving, I thought I was bad! But she is like a bull in a China shop," he said.
As for the slap that was delivered to Dr Rollins, Mr Roberts said he knows the Bible says that one must turn the other cheek, but he is not a "turn the other cheek kind of fella".
"But I commend Dr Rollins for embracing that because it could have turned into a nasty scene," he said.