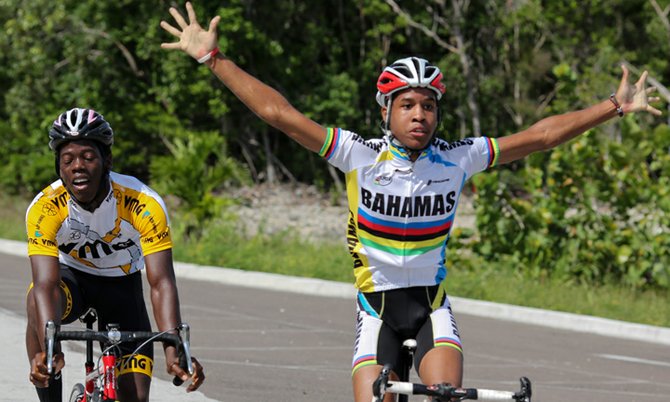 By BRENT STUBBS
Senior Sports Reporter
bstubbs@tribunemedia.net
JAY Major outsprinted arch-rival Anthony 'Biggie' Colebrooke in another battle between the two rising young stars to win the New Providence Cycling Association's Road Championship title on Saturday morning.
Major, 17, clocked two hours, nine minutes and 12 seconds to raise his hands in victory in the 48-mile race around a portion of the western end of the island as he held off 18-year-old Colebrooke, who came across the finish line in front of the Clifton Heritage Park.
Veteran Tracey Sweeting of the Potcakes made a gallant comeback to ruin the showdown, but was a little too late as he trailed in third place in 2hrs, 9mins, 15sec, beating out another youngster, novice Deangelo 'Superman' Sturrup in a secondary sprint as well. Sturrup was timed in 2hrs, 9mins, 18secs.
"It was good. It started off pretty fast, but it slowed down, which made it a strategy race, so it was a good race. You had to use your mind a lot," Major said.
Major and Colebrooke made an early break away from the pelleton of about 12 cyclists along with triathlete Kelly Kramp. But with about five laps to go, Kramp dropped out and it left Major and Colebrooke to defend their territory by themselves.
As they closed in on the finish line, Sweeting and Sturrup could be seen on their trail, but it was all about who had the best kick at the end.
"This is what I like to do best," said Major about the sprint. "I don't like to break away from everybody. That ain't my style, although one of my coaches, Mr (Shawn) Fox has been pushing me to do it. I just don't have the mental capacity to do it. I just like to wait for the last 100-200."
The victory was about the 15th for the season for Major, who has been undefeated so far. But Major admitted that this is only setting him up for the ultimate challenge when the Bahamas Cycling Federation's National Independence Championship takes place on Sunday, July 7.
The defending champion is Colebrooke, who would like nothing better than to avenge those defeats he's had at the hands of Major this year.
"It was hard at first. After we got the break away, Jay just started attacking constantly and so it was very hard for me to try to keep up with him," Colebrooke said. "The finish was very hard because I was catching a cramp."
Colebrooke said he had wished that Sweeting had closed in the gap and joined them in the break away because it could have been a different story at the sprint.
But Sweeting, the runner-up at last year's Nationals, noted that it wasn't what he had anticipated.
"I wanted to win," he said. "When you practice, you want to win. You want to come out and shine. I look forward to the National Championships. When I made the comeback, I thought the race was over, not knowing that they were not too far ahead of me. I was gaining on them. If we had one more race, they would have been in trouble."
Fresh off his victory at the triathlon in Eleuthera last weekend, Kramp said he caught a cramp during the race and just couldn't maintain his fitness level so he decided to stop to avoid risking any further injury.
"I don't think I recovered properly from Eleuthera, so I just decided to drop out," Kramp said. "I was out in a break with the front group and I should have held out right to the end today, but I got sick to my stomach and I just couldn't finish."
After winning the triathlon last Saturday, Kramp decided to go on a 160-mile ride to tour the beauty of Eleuthera and he noted that he wasn't fully recuperated to contest in his first local open cycling race on Saturday.
"It was a good long race in Eleuthera, but I don't think my body was fully recovered to ride this year," the Canadian resident said. "The two young guys are good strong guys. I think they both have bright futures ahead of them."
Saturday's race saw Brazilian triathlete Juliana Passos as the lone female competitor. She won a shorter 24-mile race in 1hr 28mins and 56sec, but wished that she had some more of her peers involved.
"I've been improving a lot. Every race has been a challenge, but I've been missing a lot of the girls," said Passos, who has been in the Bahamas for the past three years, but only started competing locally since January.
"Every race, I hope to see more girls competing, even if they just come out to see how it goes. Regardless of your age, you can come out and compete because there are a lot of categories for you to come in."
In some of the races she has competed in, Passos said she's had to face Jessica Robertson and Laura Roach, who have both beaten her. So it was good in their absence to pull off the victory.
Winning the junior boys title was Antonio Roberts Jr, who clocked 1hr, 22mins and 53sec.
"It was alright. It was good," said Roberts, a 13-year-old student of SC McPherson. "I rode by myself. Facing the wind was not easy, but I did it."
NPCA president Barron 'Turbo' Musgrove said the championship was just a prelude to the nationals.
"The competition was good. We're very excited about the amount of young people participating in the sport right now," he said. "We hope that the feeder system will continue to grow and the standards will increase.
"We will be looking at changing our venues, moving it closer to the populated areas particular the new highways like JFK Drive and the East-West Highways where we can have some of our events and get more persons to come out and participate as opposed to out here where a lot of people can't make it."
On Saturday, the NPCA is slated to hold a Bik-athlon at Clifton Pier Heritage Park, starting at 8:15am.
Just before the federation's Independence National Road Cycling Championship is held on Sunday, July 7, the NPCA will assist the Baptist Sports Council in their annual Cycling Classic at the National Cycling Track at the Baillou Hills Sporting Complex on Saturday, June 6.
Here's a look at the results of the NPCA Road Championships on Saturday:
Overall - 48 miles
Jay Major, JAR, 2hrs, 9mins 12sec
Anthony Colebrooke, Team Warriors, 2hr, 9mins, 12sec
Tracey Sweeting, Potcake, 2hr, 9mins, 15sec
Deangelo Sturrup, Team Warriors, 2hr, 9mins, 18sec
Justin Minns, Team Warriors, 2hr, 11mins, 12sec
Richard Horton, Potcake, 2hr, 16mins, 19sec
Van Demeritte, Potcake, 2hr, 20mins, 14sec
Peetron Lightbourne, Warriors, 2hr, 20mins, 20sec
Jave Russell, Rowshan Jones, Sam Brown, Kelly Kramp, did not finish
Divisonal Winners
Sr I or Cat I
1st, Jay Major, Team JAR
2nd, Anthony Colebrooke, Team Warriors
3rd, Tracey Sweeting, Team Potcake
4th, Rowshan Jones, Team GB Cyclists Club
Sr II or Cat II
1st, Deangelo Sturrup, Team Warriors
2nd, Justin Minns, Team Warriors
3rd, Van Demeritte, Team Potcake
4th, Peetron Lightbourne, Team Warriors
Sr III
1st, Richard Horton, Team Potcake
2nd, Jave Russell
Junior Boys - 24 miles
1st Place, Antonio Roberts, 1hr, 22mins, 53sec
2nd, Cecil Williams, 1hr, 23mins
Open Women - 24 miles
1st, Juliana Passos, 1hr, 28mins, 56sec
Masters Men (50yrs) 24 miles
1st, Anthony Roberts, Team Potcake
Masters Men (50yrs plus) 10 miles
1st, Larry Russell, Team Potcake
Junior Boys (U-14yrs) - 24 miles
1st, Felix Neely, Team Warriors, 1hr, 48mins
2nd, Jameson, Team Warriors, 1hr, 50mins
Special Cadets, 800 metres in Parking Lot
Cadets under 10yrs
1st Barron Musgrove Jr or BJ Musgrove
2nd, Randolyn Newry Jr or RJ Newry
3rd, T.Daddy Ramey