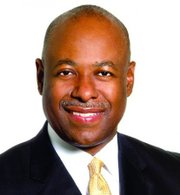 By AVA TURNQUEST
Tribune Staff Reporter
aturnquest@tribunemedia.net
AMERICAN Express credit card sales in the Bahamas jumped four per cent to $217 million last year, Minister of Tourism Obie Wilchcombe announced yesterday.
Mr Wilchcombe said the figure is significant considering that $1 billion was spent using the card across the entire Caribbean region, even as he underscored the critical need for more tourism products.
"[American Express] saying that its an increase of four per cent over the previous year," Mr Wilchcombe said.
"Mastercard has informed us that they see an increase of 62 per cent from $150 million in 2010 to $244 million in 2012 on the use of the card in the Bahamas, to the point now where they want to become the official card of the Bahamas."
He said: "That's where we are, they know the Bahamas is a hot ticket. People are coming to our country, they're coming looking for all that we have and that is why it's important for us to appreciate that the Bahamas must focus on product. I want no one to ever believe that we're not serious about product."
During his contribution in the House of Assembly, Mr Wilchcombe defended the government's plan to introduce a new Carnival-style festival in 2015.
Mr Wilchcombe said: "The PM never said we're going to stage Carnival or Mardi Gras in the Bahamas, he was trying to create the picture, to show what it is, and how it could work. What he's talking about is something like a Bahamas Junkanoo festival."
"The last two weeks we were in New York we were talking about come to the Bahamas for Junkanoo, but where are you going to get it? Christmas and New Years.
"So we are promising something that we can't deliver, but if we put it on the calendar as an annual event where you can come for one week and there are events taking place relative or centred around Junkanoo, whether it's the dancers, the music, the concert, the parade, whatever it is – come get your costume, whistles, souvenirs – it becomes one of those festivals that people want to come to every single year.
"We'll have thousands of people, not only that it's also a wonderful homecoming for Bahamians."