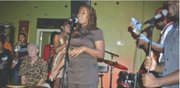 By ALESHA CADET
Tribune Features Reporter
acadet@tribunemedia.net
MEMBERS of the Meah Foundation are asking Bahamians to join them for a fun and exciting night of music on Charlotte Street, this Saturday.
Hosted by Van Breugel's Restaurant, the event is being held to benefit the Meah Foundation and their featured projects for the evening that include The Bahamas Humane Society and The Bahamas Down Syndrome Association.
Through stories, The Meah Foundation seeks to raise awareness of people's experiences, particularly of how people suffer and overcome, transforming their pain into healing and wisdom, and ultimately into hope.
Based in Nassau Bahamas, the foundation raises money to enable dynamic individuals and speakers to make their stories heard, to fund creative writing workshops that empower youth to tell their own stories and to fund exchange programmess which encourage people to visit communities outside their countries so that stories may be shared across national and international borders.
Tina Klonaris-Robinson, Founder and Managing Director of the Meah Foundation, said she is looking forward to introducing the organisation to the community.
"I look forward to sharing the hope, the vision, the dream and asking my community to join me in being a part of this project that we are taking global," she said.
Ms Klonaris-Robinson said: "When we can come together as a community, with all of our differences and work together as one to bring the power of love and healing to those who most need it, I believe we will begin to see the healing that this country needs. If we work separately, we will not be as powerful as we can be if we work together. We wanted to create an event that we could bring our community together for the purpose of creating change and doing good in our community as well as in this world."
She said a music festival meant that people could come together to enjoy good company, music, food and drinks, all for a good cause.
The Band Quartz, The Rum Dums, The John Christie Band and the Floating boats will be performing.
"These bands are amazing and we are honoured to have them be a part of this event. When we began planning, these bands wanted to play for the cause. They wanted to give their time to help us to raise funds for all the work we are doing and for that, we were especially thankful and grateful," said Ms Klonaris-Robinson.
She said all of the bands bring a unique sound and style to the event and hopefully this is the first of many Meah Foundation Music Festival events.
"With this event, we are only just beginning and we look forward to working with many worthy organisations here in the Bahamas and abroad," said Ms Klonaris-Robinson.
She added: "The beauty of diversity and difference is that every person is called to something. For some, it may be to rescue children from abuse and pain, for others it may be to feed the hungry. Some may wish to work with animals and for some it may be to help people with illnesses. Whatever you are called to, The Meah Foundation believes that every person's unique call to action is important and worthy and that every story we share deserves to have a place in this world."
For the remainder of the year, Ms Klonaris-Robinson said people can look forward to many exciting things from the Meah Foundation. She said the Foundation will be bringing in many speakers and workshop presenters from all walks of life.
"We recently brought in Rachel Johnson to talk about Child trafficking as well as Roxanne Koteles-Smith to talk about her 'Food Wisdom' program to assist people to live healthy and heal from various illnesses. Expect us to begin building bridges of communication, connecting people to people from all walks of life," said Ms Klonaris-Robinson.
The event is at 7pm on Saturday, June 22 at Van Breugel's in Charlotte Street, Nassau.