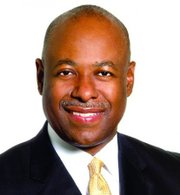 By DANA SMITH
Tribune Staff Reporter
dsmith@tribunemedia.net
TOURISM Minister Obie Wilchcombe said the government is "looking at all the circumstances" surrounding Blackbeard's Cay, following criticism from environmentalists over a reported lack of important legal and regulatory requirements for the development.
Meanwhile, construction has already begun and sources say permits were recently granted, despite the government's earlier promise to scrutinise the project before allowing it to progress.
Earlier this week, environmental group reEarth called for an immediate halt to the development and the enactment of the Freedom of Information Act to bring transparency to it and similar projects.
The group called on Blackbeard's Cay developers to produce the project's Environmental Impact Assessment (EIA).
"We're looking at all the circumstances surrounding Blackbeard's right now; in fact, we're looking at the applications, the licenses that were given or not given – all of that is being considered, right now," Mr Wilchcombe said yesterday.
"And we're looking at the criticism that is being meted out by the various organizations. So it's still a matter at work and we are looking at every single matter that has been raised by the various organizations.
"But one of the things that we are deeply concerned about is, of course, the licensing – if there was any EIA done or what license are they operating under, so all those things are being looked at."
Mr Wilchcombe added: "(The FNM) were the ones who carried it through, our job is to make sure it was done correctly."
The statement by reEarth read: "It is unthinkable that a foreigner is allowed to march into our country and set up a development without going through the same processes, and, being subject to the same regulations, as a Bahamian national."
Asking whether an EIA was ever conducted for the project, and if so, why it was never made public, the group added: "What government agency would approve such a venture with no Environmental Impact Assessment or Environmental Management Plan?"
Earlier this month, the developers behind Blackbeard's Cay denied claims that it lacked the required government approvals and permits, to Tribune Business.
"Everything is in order," developers said.
Former Cabinet Minister, Charles Carter – one of Blackbeard's Cay's principals – told Tribune Business it would be impossible to conduct a project of such magnitude and visibility without all the permits being in place.
"There's no way that project can get going without them," he said. "I've never been involved in anything illegal in my life, and don't intend to start now."