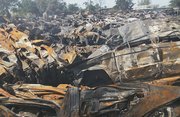 By DANA SMITH
Tribune Staff Reporter
dsmith@tribunemedia.net
THE cause of Monday's major fire at Strachan's Auto on Solider Road remains unknown, police say, with Environment Minister Kenred Dorsett telling the press he "looks forward" to the official report.
Residents watched in horror as an "inferno" ripped through the auto shop's adjacent junkyard, sending clouds of black smoke billowing into the sky.
According to police reports, fire-fighters responded around 4.30pm and met "several areas" of Strachan's Auto property, containing a large number of derelict vehicles, engulfed in flames.
Five fire-trucks battled the flames which were fed by hundreds of scrap cars in the auto shop's junkyard, and threatened several homes nearby, said police on the scene, Monday.
One home-owner was seen on his roof with a garden hose attempting to battle flames that were mere feet from his property.
The scrap yard was said by residents to have been there for more than a decade, housing up to 600 cars, and has caught fire before, some two or three years earlier.
Police say Monday's blaze was brought under control sometime after 11pm with the assistance of fire-fighters from the Royal Bahamas Defence Force, the Airport Authority and members of the community.
All that is left at the scene is the charred remains of the hundreds of scrapped cars.
"At present there are no reports of persons being injured or having to receive medical treatment as a result of the blaze," police said. "Additionally, at this time the cause of the blaze is unknown."
Mr Dorsett said yesterday officials from his ministry had visited the site in the aftermath of the blaze and he is still waiting on an official report to "ascertain what happened."
He also noted the country has only one official site for scrap metal – on Marshall Road – and called on residents who are experiencing resperatory problems as a result of the fire to seek medical attention.
Antonio Rolle was one of many persons on the scene on Monday, watching the blaze. He told The Tribune he moved into the area about a decade ago and "when we moved here, we met it (the scrap yard) here."
He said he saw the smoke from as far away as Carmichael Road.
"I always thought it was a hazard with all the old cars," he said. "Couple years ago, there was another fire where debris was shooting up in the air."
Garden Hills MP and Speaker of the House Kendal Major was also at the scene. As he looked on at the blaze, he said: "This is very, very serious. . . It's an inferno and it shows no sign of letting up."