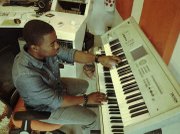 By LESH
Tribune Features Reporter
acadet@tribunemedia.net
HAVING worked with a lengthy list of local artists in his recording studio, Bahamian singer Sammie Starr said he still hopes to work with many more musicians in the future.
Many know him as Sammie Star the singer and performer, but very few are familiar with the Sammie that is also responsible for what goes on "behind the scenes" in many songs released by artists in the Bahamas.
In his teenage years, Sammie became one of the most sought after record producers, producing hits all over town. He has become a star as a recording artist releasing top hits like We Winning, Good To Know You, I'll Never Leave, Send Your Light, Same Girl, and many more.
Sammie is also apart of the newly formed Bahamian music group entitled, 'The Rat Pack' that includes M Deez, D Mac and So$a Man.
The group recently flew over to Florida for the largest Memorial Day weekend event, Best of the Best International Music Festival.
He told In Ya Ear, the opening of the "Ooh Chaka Recording Studios with Starrboy Inc" was inspired by Bahamian native Angelo Martin, now living in Atlanta, Georgia.
"Angelo is one of the pioneers of local urban music of my time. He saw the need to make available to local artists a state of the art studio to encourage the development and success of the new breed of Bahamian Music. The Studio has been open for about a year now," said Sammie Starr.
While Angelo is the primary principal in the studio, Sammie said he has partnered with projects and operates the studio for the most part in Angelo's absence.
Sammie said: "I have worked with just about every well known artist here in the Bahamas, as well as many up and coming artists. That list would be too long to name. If you can name one, I've probably already worked with that artist."
He said the recording studio has produced many songs since its opening.
For Sammie, he said it is actually not difficult to upkeep a recording studio. He said it is however, expensive to maintain, as the difficulty only arises in the financing.
Sammie said: "We are currently working on creating a portable version of the studio, which will enable us to record virtually anywhere and bring it back to the main studio. Years from now there will be several branches of the studio around the region and hopefully in Florida as well."
He said he is also working on his own music projects that are in the making projects with The Bahamas Rat Pack, as well as advertising and branding projects for major corporations and companies in the Bahamas.
In the future, Sammie said he would like to work with local artists such as; Ronnie Butler, Joanne Calender, Ancient Man, Beezy Leanin', Jah Hem, Qilla' Fang, Sakinah, The Rahming Brothers and Wendy Lewis. As well as international artists such as; Beyonce, Taylor Swift, Bruno Mars, Jay Z, Drake, Alicia Keys.