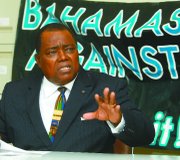 By RASHAD ROLLE
THE REV CB Moss, president of Bahamas Against Crime, said "hopefully more parents will be arrested" after a 50-year-old mother and her three sons were arrested when police found items, believed to have been stolen, in their home.
Two of the young men, ages 25 and 21, were arrested Tuesday morning off Soldier Road and East Street for a home invasion in April.
Police later searched their Richville Subdivision home and confiscated a flat screen, a TV, laptops, cellular phones, jewellery and other electronic items. Police arrested the mother and 17-year-old brother of the men, both of whom lived in the home.

Although the mother's role in the crimes is not yet clear and police say they are determining whether to press charges against all family members, Rev Moss, speaking to The Tribune, said: "Hopefully this will be the beginning of something new. The state must let parents know they will not be allowed to get away with thrusting dysfunctional children on society."
Rev Moss said parents are often complicit in their children's crimes. "There's complicity on the part of parents and that's a large part of the problem," he said, adding: "Parents go along with their criminal behaviour for various reasons, including economic reasons, because they don't want to lose the child to the state, because they hope the child will change or because they want to avoid the embarrassment of having to publicly acknowledge that they have a problem child. Some parents are afraid of their children. They are intimidated so they just go along. But that is why the state has to intervene at an earlier age. You just can't stay on the outside and determine which reason is the right one."
He added: "Bahamas Against Crime for years has been saying that the battle against this crime crisis has to be fought in three areas: one is law enforcement, another is the criminal justice department, and civil society is the other. Although Bahamas Against Crime has no mandate to operate in the first two sectors, we certainly could operate in the civil society and that's where we've been active."
"We've been calling on the government to enact laws which hold parents and guardians more responsible for their underage children and their children who reside in their homes and an incident like this falls within this category. We feel it would go a long way toward addressing some of the early contributive factors that causes criminal activity."
"We also recommend that the government establish the capacity to deal with situations where parents are unable to control their children. Parents should report their children to the relevant agency and the state should be able to respond and decide whether the child should be monitored in the home, monitored at school or taken out of the home for a temporary or extended period, etc. If it's done early enough it could have the effect of changing the course of a young person's life."