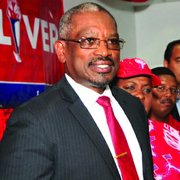 By AVA TURNQUEST
Tribune Staff Reporter
aturnquest@tribunemedia.net
FNM Leader Hubert Minnis yesterday called on the government to "come clean" over dishonest campaign promises after a recent admission on violent crime.
Pointing to discrepancies between the government's completion of objectives outlined in its party's campaign manifesto "Charter for Governance", Dr Minnis charged that the PLP party manipulated voters to win the 2012 general election.
Dr Minnis said: "Brave Davis now saying it's not safe, he's now coming and being honest about what they were being dishonest about previously. I wonder when they would come forward and continue on this honesty trend. Let the Bahamian people know that when they sold them that package on mortgage that was not honest, when they sold them that package of 10,000 jobs in one year that was not honesty, when they said they would double the investment in education, that was not honesty."
"They said [initiatives] would happen immediately, that was the word they used and that was not honesty.
He added: "When they said that they would pursue retrieving the 2 per cent in BTC so the people would have majority share, they knew that was not honesty."
Following the attack on his bodyguard, Mr Davis told reporters outside Cabinet that the incident proves that no one is "safe" from the unrelenting scourge of crime in the country.
Mr Davis called for Bahamians, from all walks of life, to come together to help in the fight against crime.
Yesterday, Dr Minnis charged that Mr Davis' comments demonstrate that the government does not have the solution to crime despite campaign promises.
"The public is now waiting for them to continue this path of honesty that "Brave" Davis has commenced, so that they can come out and admit that what they did they only did to get elected," Dr Minnis said.
"He's indirectly saying they do not have the solution."